Why Thor 2's Director Had A Terrible Time Working For Marvel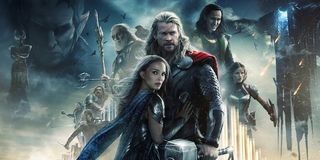 As their expansive cinematic universe continues to unfold, Marvel has a definite aesthetic, a look and feel and tone that spans different movies, superheroes, and creative teams. This means that there are a lot of fingers in the pot on any given film, and the studio has been criticized for not letting individual director fully realize their visions. There are, of course, two sides to this story, but Thor: The Dark World director Alan Taylor is one who did not particularly enjoy his time working for Marvel.
While promoting his latest movie, Terminator: Genisys, which opens today, Uproxx asked Taylor how working on that film for Paramount compared to working on Thor 2. From his description, it sounds like it was a very different affair. He said:
Taylor continued by saying that, with Genisys, the story they set out to tell in the beginning is, more or less, the story audiences will experience in theaters. That definitely doesn't sound like the case with Thor 2.
This subject, the idea that Marvel mistreats or at least devalues their directors, has been in the headlines quite a bit lately. As Warner Bros. and DC, Marvel's chief rival in the comic book realm, get ready to launch a connected cinematic superhero universe of their own starting with next year's Batman v Superman: Dawn of Justice, WB chief Greg Silverman caused a ruckus with comments about how Marvel stifles filmmakers.
Marvel head Kevin Feige responded to these allegations, citing the likes of Joss Whedon, James Gunn, and Jon Favreau, who were able to craft their own unique films under similar conditions. Working within the established system, with a number of studio-mandated elements, isn't going to please everyone, but there are enough reports that you have to wonder how they proceed when the vision of the studio and that of the filmmaker don't necessarily jibe.
Before Taylor, who primarily worked in television previously, landed the gig, Thor: The Dark World went through a number of potential directors. Kenneth Branagh, who helmed the first Thor, reportedly turned down the job, as did Brian Kirk (Game of Thrones, which Taylor also worked on). Marvel hired Patty Jenkins (Monster), who would have been the first woman to direct one of their pictures, though she split with the studio after a few months and is now going to lead Wonder Woman for DC.
Marvel definitely has a system, an approach, and, at least up to this point, it has worked remarkably well for them. As Phase 2 of their cinematic universe draws to a close, Phase 3 does look like it is going to continue to expand and grow. Their upcoming slate of films introduces some much desired diversity into the MCU, we're getting new characters and heroes, and we'll see some more of the deep space settings that we first got a substantial dose of last year in Guardians of the Galaxy.
With new elements coming in, it will be interesting to see if we continue to hear stories of their heavy-handed ways or if they'll loosen the reins to a degree. For those of you interested in seeing what Alan Taylor does outside of Marvel, Terminator: Genisys is in theaters now.
Your Daily Blend of Entertainment News