The Suicide Squad: What Fans Are Saying About The Latest DCEU Movie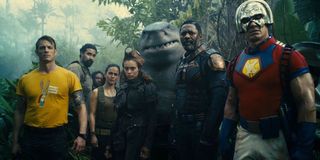 CinemaBlend participates in affiliate programs with various companies. We may earn a commission when you click on or make purchases via links.
DC Comics' Suicide Squad made its theatrical debut in 2016, and while the movie performed solidly on the commercial front, its critical reception left a lot to be desired (which has led to numerous calls for director David Ayer's original Suicide Squad vision to be released, just like what was done with Zack Snyder's Justice League). Five years later, Task Force X has returned to the cinematic space, with Guardians of the Galaxy's James Gunn writing and directing their newest adventure. Mixing a handful of familiar faces with a large lineup of new ones, The Suicide Squad marks a fresh start for this DC property, and we're now just over a week separated from its release.
As evidenced by its 91% score on Rotten Tomatoes, The Suicide Squad has largely been a hit among professional critics, with CinemaBlend's own Eric Eisenberg awarding it 4.5 out of 5 stars. But what do the fans think about the tenth DC Extended Universe movie? That's what we're here to go over, as there are plenty of The Suicide Squad social media reactions to take in.
The Suicide Squad Is Another Popular DCEU Installment
The last time we delved into the DCEU was with Wonder Woman 1984, and that earned more mixed reactions compared to its 2017 predecessor. Luckily for The Suicide Squad, a lot of regular moviegoers are on the same page as the critics and consider it to be another successful entry in this superhero franchise.
It certainly helps that The Suicide Squad is a standalone sequel to Suicide Squad, so folks who missed out on the 2016 movie can easily following along with this new installment. More importantly though, a lot of praise has been directed towards James Gunn for the unique vision that stemmed from his "horribly beautiful mind" (as the first trailer put it).
Just like James Gunn did with the first two Guardians of the Galaxy movies, albeit within R-rated parameters this time rather than in a PG-13 setting, The Suicide Squad effortlessly blends action and humor into an explosive romp that's being well received by many.
Now let's go over one of the standout protagonists from The Suicide Squad.
King Shark Is A Fan Favorite
As noted earlier, The Suicide Squad features a lot of new characters, including Bloodsport, Polka-Dot Man, Ratcatcher 2 and Peacemaker. Most, if not all of these individuals have been lauded across the board, but The Suicide Squad's MVP is arguably Nanaue, a.k.a. King Shark, who was played on set by Steve Agee (who also appears as John Economos) and voiced by Sylvester Stallone. The humanoid shark already had plenty of fans thanks to his time in the comics and from appearing on TV shows like The Flash and Harley Quinn, and now that fanbase has gotten even bigger thanks to The Suicide Squad.
As the Suicide Squad's most physically powerful member in this movie, King Shark is a terrifying adversary who frequently devours human flesh. However, the character's childlike personality and dad-bod physicality has resulted in him also being labeled as cute, among other adjectives.
In that regard, King Shark has been compared to the MCU's Groot, specifically the walking and talking tree's baby form from Guardians of the Galaxy Vol. 2. Whether King Shark will become as beloved in general pop culture as Groot has over the last seven years remains to be seen.
While King Shark and the rest of the Suicide Squad start out as supervillains (a label more apt for some than others), just like Task Force X did in the last movie, they've been sent out to defeat a bigger threat, which brings us to our next section.
Starro Was A Magnificent Villain
A movie as wild as The Suicide Squad deserves an equally bonkers main antagonist, and Starro the Conqueror fits that role quite nicely. No spoilers here for those who haven't watched it yet, but a series of events leads to Starro rampaging across the Corto Maltese capital city, and while the citizens suffer immensely, moviegoers are treated to an insane, yet enjoyable visual spectacle.
Like his comic book counterpart, the DCEU's Starro is an alien who ended up on Earth and can spawn miniature duplicates of itself to control others. So yeah, in the long run it needed to be defeated, but maybe you're like this person and feel that Starro deserves more respect and understanding.
Interestingly enough, Starro debuted in Brave and the Bold #28 as the first villain to battle the original Justice League of America. While we have yet to see the giant extraterrestrial starfish battle the superhero team in a live-action setting, the character's certainly come a long way, and the Suicide Squad made for worthy adversaries for its film debut.
Now that we've covered just a sampling of the ways The Suicide Squad has been received positively by fans, let's look to the property's future.
The Suicide Squad Fans Want A Follow-Up Movie
The Suicide Squad ends in a way where we could easily leave these characters with one exceptional cinematic outing. But this is a superhero movie, so obviously there's a desire to see more of those who came out of this tale alive. While we will be reuniting with John Cena's Peacemaker in his own HBO Max series, there are also calls for The Suicide Squad to get a proper sequel movie.
While such a project hasn't been confirmed yet, DC Films president Walter Hamada teased that James Gunn will be working on more DC projects beyond The Suicide Squad and Peacemaker. So once Gunn is done making Guardians of the Galaxy Vol. 3 and the Guardians of the Galaxy Holiday Special, maybe Gunn will return to Task Force X. As for who/what the team would battle next time, the Justice League has been suggested, as the two teams have clashed in the comics.
Of course, let's not forget that The Suicide Squad brings back one of the DCEU's most popular characters, Margot Robbie's Harley Quinn, who debuted in Suicide Squad and also starred in Birds of Prey. While Harley could easily be part of the Task Force X again in another movie, some folks are hoping she gets a chance to branch out again, specifically by pairing her with certain other characters from Batman's corner of the DC universe.
Feel free to let us know what you thought of The Suicide Squad in the poll below, and if you haven't seen it yet, it's playing in theaters and on HBO Max, the latter of which you can subscribe to with this link (opens in new tab). Naturally we'll keep you informed about Peacemaker and any other The Suicide Squad-related projects, but for now, you can learn what's on the DCEU horizon by looking through our upcoming DC Comics movies guide.
This poll is no longer available.
Connoisseur of Marvel, DC, Star Wars, John Wick, MonsterVerse and Doctor Who lore. He's aware he looks like Harry Potter and Clark Kent.
Your Daily Blend of Entertainment News