John Cena's Peacemaker TV Show: 8 Quick Things We Know About The HBO Max Series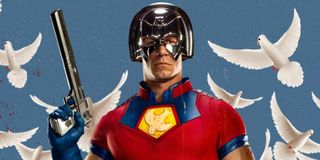 Last year, when James Gunn was putting the final touches on The Suicide Squad, it was announced that the writer-director would be the showrunner behind Peacemaker, HBO Max's spin-off series centered around John Cena's sure-to-be scene-stealing turn. Details were slim at the time, but as we get closer to the release of Gunn's latest film, we have some more information about the forthcoming streaming show. Here's what we know about Peacemaker Season 1, including its cast, premiere date, and directors.
John Cena Is The Star And Co-Executive Producer Of HBO Max's Peacemaker
Reprising the role that we'll soon see in James Gunn's The Suicide Squad, John Cena is the star and co-executive producer at the front of HBO Max's Peacemaker. Outside of guest star appearances, voice-only roles, host duties, and reality TV appearances, this streaming show will be Cena's first major TV series. Additionally, it'll be his first leading narrative TV role since he quit professional wrestling. While the actor has been forging an active career as a movie star, the new series will mark Cena's big return to television.
Peacemaker Is Expected To Premiere In January 2022
We still have a while to go before Peacemaker is available to stream. Currently, as it was revealed by HBO Max Chief Casey Bloys in an interview with THR, the plan is to release this eight-part series in January 2022. That date isn't locked in stone, but it would make sense. It seems that the plan is for James Gunn to finish up work on this new series in the remaining summer and early fall months ahead, with the show locked before Guardians of the Galaxy Vol. 3 gears up production in November. We should expect more details to arrive soon enough regarding Peacemaker's pending release.
The Eight-Episode Series Follows The Origin Story Of The Man Who Believes In Peace At All Cost, No Matter How Many Have To Be Killed
Peacemaker is a freedom fighter, but he's not opposed to some free fire. Through this HBO Max series, we will follow the unlawful origin story of a law and order-loving man who's unopposed to slaying in the name of common decency. Naturally, his war-friendly tactics in the literal name of peace will be a ripe source of dark action-comedy. Similar to The Suicide Squad, we should expect a high body count for this comic book series.
Showrunner James Gunn Wrote Every Episode Of Peacemaker And He'll Direct Five, Including The Premiere
Even though James Gunn is connected to two major superhero tentpoles, the writer-director will have a big influence on HBO Max's Peacemaker. Along with showrunning, Gunn wrote every installment of the eight-episode season. Additionally, he's at the helm of five of these episodes, including the series premiere. If you love Gunn's anarchistic style, you'll want to make a point to watch this new streaming show when it premieres.
The Upcoming Streaming Show Recently Finished Shooting
On July 12th, 2021, after 131 days of shooting, Peacemaker wrapped production. As James Gunn noted on Twitter, it was only a year earlier that the writer pitched a "vague" idea of what he had in mind for a series based on John Cena's rogue. Now, the spin-off is in the can and in the midst of editing. Before he thanked the cast and crew, Gunn claimed that all eight episodes are "astounding" and he's eager to present this show.
The Other Peacemaker Episodes Will Be Directed By Jody Hill, Brad Anderson, And Rosemary Rodriguez
Along with James Gunn calling the shots on five episodes of this brand new streaming series, Peacemaker sees Jody Hill, Brad Anderson, and Rosemary Rodriguez at the helm, per Collider, for the additional three episodes. It's unclear which episodes these respective filmmakers are responsible for, but these names should be familiar to film-TV lovers.
Notably, Jody Hill is the co-creator of HBO's Eastbound & Down and Vice Principals, as well as an executive producer on The Righteous Gemstones. He's also the writer and director behind The Foot Fist Way, Observe and Report, and The Legacy of a Whitetail Deer Hunter. Additionally, Brad Anderson is best known for directing The Machinist, Session 9, and The Call. He also produced and called the shots on several episodes of Fox's Fringe. Furthermore, Rosemary Rodriguez is a veteran TV director best known for her work on The Good Wife and Jessica Jones. She also helmed Acts of Worship and wrote and directed Silver Skies.
Robert Patrick, Steve Agree, And Danielle Brooks Round Out The Peacemaker Cast
Along with John Cena leading the charge in the title role, HBO Max's Peacemaker will also star Steve Agee, Danielle Brooks, Robert Patrick, Jennifer Holland, Freddie Stroma, and Chukwudi Iwuji. More specifically, Agee will reprise his Suicide Squad role as John Economos, Belle Reve penitentiary's warden, while Brooks is slated to appear as Leota Adebayo, a driven woman with ties to our lead. Additionally, Patrick will be seen as Auggie Smith, Christopher Smith's powerful, racist father, who served as a vigilante under the moniker Peacemaker. Furthermore, Holland is Emilia Harcourt, an NSA agent, Stroma is attached in the role of Adrian Chase, i.e. Vigilante, a crime-fighting district attorney, and Iwuji is signed on as Clemson Murn, a leader connected to Christopher.
James Gunn Started Writing The Peacemaker For 'Fun' During Lockdown, Then HBO Max Agreed To Turn It Into A Real Thing
Like many people throughout this past year, James Gunn found himself at home with more free time than he anticipated. In the midst of finishing The Suicide Squad and awaiting notes on his latest draft of his Guardians of the Galaxy Vol. 3 screenplay, Gunn was stuck at home, trying to figure out what the hell he should do during the lockdown.
The answer? Write some pages of a Peacemaker spin-off series, which centered on the character's demented origin story. The screenwriter admits on Instagram that this was "mostly for fun," as he "didn't believe it was ever going to happen." But when DC Films came to the filmmaker and asked if there was any Suicide Squad character that he wanted to make a spin-off series about, this project became a more serious prospect.
The Suicide Squad hits theaters and HBO Max on August 6th. Follow CinemaBlend for more updates on the upcoming DC movies and TV shows.