Why David Ayer's Suicide Squad Should Still Be Released After James Gunn's Version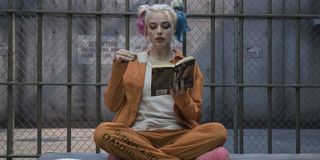 (Image credit: (Warner Bros))
DC fans are coming off an incredible weekend catching up and geeking out about James Gunn's The Suicide Squad, an instant fan-favorite among Warner Bros' comic book franchise despite its bummer box office. And yes, the latest Suicide Squad film is more focused, more fun and one of the best DCEU offerings we've ever seen. Now with all that being said, David Ayer's director's cut of 2016's Suicide Squad absolutely still needs to be released.
For context, much like Zack Snyder's Justice League, David Ayer's vision for Suicide Squad was shortchanged thanks to the studio changing its mind on the filmmaker's vision while it was in post-production. According to Ayer, the success of Deadpool and the hate for Batman v. Superman: Dawn of Justice ahead of the film's summer 2016 release led Warner Bros to get "panicked' and ask him to change a huge chunk of Suicide Squad. Let's dive deeper into why the Ayer Cut should still see the light of day.
David Ayer Deserves The Some Redemption After Warner Bros' Changes
Before Warner Bros turned on David Ayer's original plans and Suicide Squad was changed to the theatrical version, which became a big hit at the box office aside from negative reception from moviegoers, the movie was an incredibly personal project to David Ayer. According to one of the film's editors Kevin Hickman, who spoke to CinemaBlend about reworking the cut, it was similar to Black Hawk Down in its tone and comedy was injected into the film. So much like Zack Snyder's Justice League, it was much darker, and therefore quite different than what James Gunn just did with the property.
Now that we are five years removed from Suicide Squad and the interest in David Ayer's version of the film has only become more interesting to fans, Warner Bros has the chance to be a standup studio and give the filmmaker the chance to showcase what he had put his blood, sweat and tears into. It obviously wasn't what the studio wanted at the time to make a mainstream, commercial superhero film, but now that the ship has sailed, the director and the fans deserve to see what he had intended to deliver. The main message here that Warner Bros would send is that it cares about their filmmakers and want to match the clear demand with the release of the Ayer Cut. That's a good message.
The Ayer Cut Can Exist As The DCEU Moves In Another Direction
I'm not saying The Ayer Cut should go to theaters. Much like Zack Snyder's Justice League, the director's cut could get a streaming release on HBO Max if David Ayer agreed to it. The filmmaker has been very vocal about his interest in sharing his version of Suicide Squad without stepping on or competing with James Gunn's movie by any means. As he shared, with the release of the Snyder Cut it's proven that fans love these DC characters whether it's canon or not. Watching the Ayer Cut at this point doesn't take away from the recent version and it won't take anything away from Warner Bros' future with these properties.
The Ayer Cut could be like a bookend. As the DCEU says goodbye to David Ayer's vision and moves on to the bright future ahead for James Gunn's storytelling, audiences love to explore different versions of a story, just like we love talking about alternate endings for favorite movies or watching the deleted scenes. As Justice League probably showed us, we'll likely watch the Ayer Cut and understand why it was probably too edgy compared to the $746 million grossing movie it became when it was released, but everyone will also get closure about what it was. I don't know about you, but as eye-opening as the Snyder Cut was, I understand why Warner Bros felt like they could not market a four-hour movie. But also, I loved seeing the Snyder Cut, and I'm really happy it exists now.
There's More Jared Leto's Joker And Margot Robbie's Harley Quinn
The most legendary element of Suicide Squad is the lack of Jared Leto's Joker, which was reportedly cut down to the bone for various reasons. As editor Kevin Hickman shared with us, there was "well over a million feet of film" of the movie that featured a ton of character work, including Leto providing a crazy amount of Joker footage. I think when Zack Snyder's Justice League came out earlier this year too, a different aura started to surround the actor's take on the character. After seeing what he brought to the epilogue, we started to wonder what else he could bring to the character, and the Ayer Cut can answer that question.
Additionally, Jared Leto's Joker continues to be important in the DCEU despite his lack of screen time. As Birds of Prey and The Suicide Squad has moved Margot Robbie's Harley Quinn along, much of her narrative has involved her breaking away from her toxic relationship with the Joker and becoming her own anti-hero. While Harley doesn't need Joker to continue to kick ass in the universe, we would watch more context about their relationship that was likely explored in the Ayer Cut.
There's A Positive Energy About Suicide Squad Again
Now is also a better time to release the Ayer Cut now that James Gunn's version has come out. Before, if it had come out and knocked our socks off, we might have felt a bit alienated by Gunn's release. But now The Suicide Squad has found its fans and carved out its own space, and the release of the Ayer Cut would just be bonus fun for DC fans. Coming out of The Suicide Squad, I found myself more invested in characters from the original movie like Joel Kinnaman's Rick Flag or Viola Davis' Amanda Waller, and it would be fun to see them more fleshed out by Ayer's vision.
If the Ayer Cut was released, it would really be a win-win by all angles. David Ayer gets to showcase the movie he had intended and close on good terms with the DCEU as it moves forward. The fans get to see Suicide Squad in its intended way. Warner Bros gets to show that it can play ball and perhaps own up to some past shortcomings, and it still has James Gunn to perhaps make more movies based on the property without changing a single thing. What do you think? Do you still want to see the Ayer Cut? Vote in our poll below.
This poll is no longer available.
Your Daily Blend of Entertainment News
YA genre tribute. Horror May Queen. Word webslinger. All her writing should be read in Sarah Connor's Terminator 2 voice over.