Lil Rel Howery Recalls Free Guy Moment That Was So Heartbreaking He Had To Take A Walk After Filming It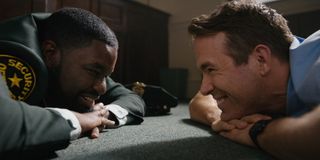 Warning: some spoilers for Free Guy are in play. If you haven't seen the movie, and want to remain fresh, respawn in another one of our stories covering the movie until you've caught up.
While Free Guy plays up the connection that Ryan Reynolds' Guy feels towards Jodie Comer's Molotov Girl, the supposed "woman of his dreams," there's another relationship that sneaks up on audiences in the long run. It's the friendship between Guy and his best friend Buddy, played by Lil Rel Howery, that lands the ultimate gut punch in the film's third act. And as Howery revealed to me in our recent interview, it was a moment that was so heartbreaking, he had to take a walk after filming it.
Attending the press day for Free Guy's recent theatrical release, I was able to speak with Lil Rel Howery and ask him about his big third act moment. If you still haven't seen the movie, this is your last call to bail out before spoilers, as we'll be digging deeply into it. You also might want to get some tissues, as this really is a heartbreaking moment in the emotional fabric of Free Guy.
Towards the end of Guy's big quest to reveal the secrets sitting at the heart of Free City, he and Buddy are separated by the ever-crumbling world of the game. Thanks to the literal hacking of the servers, courtesy of an axe-happy Antwan (Taika Waititi), these best friends have to say a big goodbye before Buddy is dusted away. Watching that moment myself, I really felt that gut punch mentioned at the top of the story, and Lil Rel Howery did too, as he explained in his own words:
Lil Rel's observation of Guy and Buddy being "naive the whole time" falls in line with director Shawn Levy's description of his Free Guy characters. Throughout the entire movie, we see Guy learning more about the world, while still retaining his sweet innocent nature, and it lands to a bit of a standoff between friends. As Guy hijacks another pair of "magic glasses" to show Buddy the reality of their world, Buddy resists the lure, as he doesn't need that knowledge.
Guy's pursuit leads to some highs and lows in the Free Guy world, and when he hits rock bottom, he knows exactly who to turn to. Buddy's devotion to his best friend shines whenever he's on screen, and it's because of Lil Rel Howery and Ryan Reynolds' commitment to that friendship that Buddy's deletion hits so hard. The two make for a perfect comedic pair, as well as the crucial emotional anchor that Free Guy needs to make its ultimate point.
It's this unexpected sweetness that makes Free Guy one of the biggest surprises of 2021, or whenever audiences choose to experience it. While the surface shows a lighthearted action comedy that takes full advantage of Ryan Reynolds' timing and star power, the entire film contains a depth and scope that most might not expect it to. That friendship between Reynolds and Lil Rel Howery's characters is one of the many things people will get to discover for themselves as they enjoy the film, and the resulting commentary will be interesting to keep an eye on. Especially since Disney has now expressed a desire to see Free Guy 2 being brought into reality, and that friendship could grow in some pretty exciting ways.
Should you have read through this particular story without seeing Free Guy, don't worry. As Lil Rel Howery can attest in his remarks above, this moment holds up to repeated experiences. So if you want to see Mr. Howery and Ryan Reynolds break your heart, you can do just that as the film is currently showing in theaters. And if you're looking for another level of excitement, boot up the 2021 release schedule and select your next trip to the movie theater or streaming couch of your choosing.
CinemaBlend's James Bond (expert). Also versed in Large Scale Aggressors, time travel, and Guillermo del Toro. He fights for The User.
Your Daily Blend of Entertainment News
Thank you for signing up to CinemaBlend. You will receive a verification email shortly.
There was a problem. Please refresh the page and try again.