Free Guy Ending Explained: Does Ryan Reynolds' Bank Teller Cash In On Life?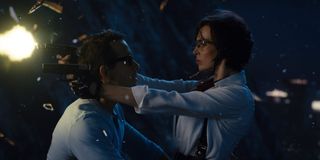 Warning: deep spoilers for Free Guy are in play, as we're about to dissect the entire ending of the film. If you're looking to stay unspoiled when it comes to this particular picture, head over to another one of the many pieces of coverage we have on the film.
This weekend, Ryan Reynolds fans are about to experience the wild action-comedy that is Free Guy. It certainly feels like we've waited forever for director Shawn Levy's would-be blockbuster to land, and now we can talk about everything that this over-the-top adventure has given to the audience. Which means, it's about time we dug deep and discussed what happened in Free Guy's ending, and what the true purpose of Guy's video game life happened to be.
If you haven't seen this movie just yet, and want to go in without being spoiled rotten, this is your last chance to bail. Free Guy contains quite a few twists and turns, with intrigue and, dare we say, romance to spare. So if you're still here, we're going to assume you're ready to talk about the big finale, and what results in its wake. In other words: it's go time!
What Happens At The End Of Free Guy?
The world of Free Guy's open-world video game Free City faces its ultimate threat: deletion, courtesy of the megalomaniacal video game developer/killer of joy Antwan (Taika Waititi). It wasn't enough that he stole the game's original form, Life Itself, from the former programming team of Millie Rusk (Jodie Comer) and Walter "Keys" McKeys (Joe Keery), but now Antwan is looking to erase every trace of evidence. Which means completely replacing/erasing Free City.
However, the key to discovering Free Guy's big digital conspiracy is Guy (Ryan Reynolds), an incredibly smart NPC that grows beyond his original programming. As it turns out, Life Itself is still hiding in the code to Free City. Not only can it be found in the ability for its NPCs to evolve in the same way that Guy did, but the original build of the game is hidden outside of a coded barrier.
As Antwan does everything he can to try and prevent this secret from being exposed, he has his team put an unfinished beefcake known as Dude into play. Eventually, Guy prevails, and through some quick thinking by Keys, he makes it across a bridge into Life Itself's original source code. The world that's watched "Blue Shirt Guy" ascend to fame and notoriety learns of Antwan's treachery, and the consequences couldn't be sweeter.
Free City Is Dead, Long Live Free Life
After the revelation of Free Guy's ending, presales for Free City 2: Carnage nosedive. Antwan's life is thrown into chaos, despite the fact that when Millie confronted him, all she wanted was the code to Life Itself. Foregoing millions of dollars, and every offer Antwan could think of, she walks away with her co-creation and helps form a new utopia: Free Life. Working again with Keys, as well as Antwan's now redeemed former sycophant Mauser (Utkarsh Ambudkar), the future is bright.
But now Millie has an important lesson to learn. Though she had a crush on Guy after meeting him in the world of Free City, Millie knows a relationship with a roughly four year old sentient A.I. wouldn't work out. Allowing Guy to do the breaking up, she says her goodbyes, and asks what Free Guy's protagonist is now going to do with his life. His response: whatever he wants; but before they depart, Guy leaves Millie with some wisdom.
Guy, The Living Love Letter
In their supposedly final talk, Guy tells Millie that when you take into account all of his features and personality quirks, he's a living love letter to Millie. Free Guy foreshadows this in the video Keys sends to her, explaining how Guy's original programming was limited to a simple loop, until he found the woman of his dreams. Keys defines the attributes of that woman by using an example from the real world, the woman of his own dreams: Millie.
The reason Guy feels so perfect for Millie is because Keys programmed him to admire everything Millie stands for. Realizing this before it's too late, Free Guy's presumed love story ends with Millie running after Keys, who's left the room to pick up a coffee order. Shouting him down before he goes into the coffee shop, they lock eyes, and eventually meet in the middle of the street. But the movie cuts just as they embrace, which kind of hints that Millie and Keys' relationship isn't the true "love story" in Free Guy.
The True Love Story In Free Guy
If you're looking for the true love story of Free Guy, it's not that of Millie and Keys, but rather the story of Guy and Buddy (Lil Rel Howery) his best friend. Throughout the movie, as Guy becomes infatuated with Millie and the real world, Millie becomes infatuated with Guy. But their pairing wasn't meant to be, and Millie finally realized Keys was the person she'd been looking for all the long.
Parallel to that story is the saga of Guy and Buddy, whose friendship becomes split apart after Guy first puts on Free Guy's "magic glasses." During the big finale where Guy is being pummeled by Dude, Buddy arrives in the nick of time and saves his best friend. Intending to take the journey to Life Itself together, Buddy is deleted by Antwan's hacking spree. Unafraid for the first time in his life, Buddy tells Guy to prove that they matter, and complete his journey, before being dusted away.
Our true happy ending is the moment where in the newly constructed Free Life, Guy and Buddy are reunited. Mirroring Keys and Millie's big kiss sequence, Guy and Buddy meet in the middle of the street for a big hug, and walk off into the idyllic streets of Free City. Which now look like a cross between a major city, a botanical garden, and a world where dinosaurs still exist.
Could Free Guy Still Get A Sequel, Despite Poking Fun At Them?
Though Free Guy pokes a lot of fun at sequels, reboots, and recycling brand-recognized IP for profit, there's still a pretty big window for the film to continue telling its story. But would director Shawn Levy and star Ryan Reynolds want to revisit the world of Free Life? Levy himself had some thoughts on the prospect, which he shared with CinemaBlend, during the press day for Free Guy:
If the world takes to Free Guy the way that everyone involved hopes they do, there's no telling where this story could go in the future. For now, we end on happiness, as both romance and friendship won the day for love in this heartfelt blockbuster. And should you have read through this spoilery rundown without seeing the film for yourself, Free Guy is in theaters now, ready for you to see everything we discussed above, and then some. Meanwhile, if you've seen the film and want to find something new at the movies, 2021's new movie releases are waiting to be discovered by you, our dear readers.
Your Daily Blend of Entertainment News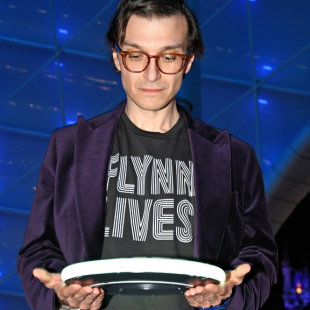 Senior Movies Contributor
CinemaBlend's James Bond (expert). Also versed in Large Scale Aggressors, time travel, and Guillermo del Toro. He fights for The User.