Dazed And Confused: 9 Alright, Alright, Alright Behind-The-Scenes Facts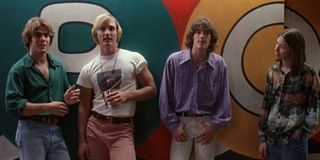 Whether you hit the peak of your youth during the 1970s, you came of age a decade or two earlier, or even if you came along many years later, it is nearly impossible not to get wrapped up in Dazed and Confused for its nostalgic value and its realistic portrayal what it was like to be a teenager during that era.
However, for as much as Matthew McConaughey's very first movie makes the '70s look like a fun, never-ending party, fun was never really the tone that Oscar-nominated writer and director Richard Linklater was going for with his sophomore feature-length effort. The surprisingly true origin of this classic 1993 coming-of-age dramedy is the first of nine behind the scenes facts we have compiled below.
Darker Days Of Richard Linklater's Youth Inspired Dazed And Confused
Set in 1976, Dazed and Confused follows a group of teenagers in search of a good time on the first night of the summer in an unnamed Texas town, which immediately sounds like the recipe for a celebration of that era's youth culture. It certainly does appear to be a joyous nostalgia trip at times but, in a video by Film 4, Richard Linklater reveals that much of the inspiration for the film really comes from a moment he does not remember as fondly:
When you take into account all the traumatic hazing that Parker Posey's Darla puts freshman girls through and the fury of Ben Affleck as the paddle-wielding O'Bannion, Dazed and Confused does feel like a horror movie at times. Luckily, there is a great deal of comedy to help break tension, a lot of which came straight from the cast members' mouths.
Richard Linklater Encouraged The Dazed And Confused Cast To Improvise Or Evolve Characters
Richard Linklater has always been commended for his ability to capture authenticity in his films, such as 2014's Boyhood, the romantic Before Trilogy, and, of course, Dazed and Confused. An interview by WPR with author Melissa Maerz (who wrote an oral history about the making of the the film, appropriately titled Alright, Alright, Alright) reveals that the filmmaker achieved this by giving his cast the freedom to bring new ideas from their own lives or elsewhere to their characters and even change dialogue. For instance, Parker Posey's hilarious, famous line, "Wipe that face off your head, bitch!" came from a mistranslated German quote from a Bertolt Brecht play.
Richard Linklater Assigned Dazed Cast Members Music To Inform Their Performances
However, Richard Linklater did enforce one particularly crucial method of direction on his cast. In an oral history on the making of Dazed and Confused published by Maxim in 2015, the filmmaker mentions that he gave each of his actors personalized mixtapes of music from the era, which would include the likes of heavy metal pioneers Black Sabbath or folk hero Joni Mitchell. Jason London, who plays the central football player protagonist, Randall "Pink" Floyd, adds that they were instructed not to listen to anything modern, which seemed to help get everyone into character.
Numerous Romances Between Dazed Cast Members Were Formed On Set
There were some Dazed and Confused cast members who got a little too much into character, particularly in regards to the film's themes of young love. In 2020, The Ringer published an excerpt from Melissa Mearz's aforementioned oral history that focuses primarily on the many on-set hookups that occurred, such as between Parker Posey and future Rent star Anthony Rapp, Rory Cochrane and Joey Lauren Adams, and Resident Evil's Milla Jovovich and Shawn Andrews (whose characters in the film, Michelle and Pickford, also dated). However, Ben Affleck apparently did not have the same experience, outright claiming, "Everyone was having sex with each other, except me. I didn't sleep with anybody the whole time!"
O'Bannion's Paddle Is Mounted To A Wall Inside The Real Top Notch Burger Joint
Due to the future Academy Award-winning filmmaker's later reputation as a Hollywood heartthrob, I suppose we could assume that Ben Affleck's lack of romance on the set of Dazed and Confused had something to do with how despicable his character, Fred O'Bannion, is. The serial child abuser is easily the most hateful and fearsome person among the film's large ensemble for how frequently and viciously he indulges in attacking freshmen with his custom-made paddle. Despite his heinous crimes, O'Bannion's legacy is immortalized on a wall at Austin's famous Top Notch Hamburgers, which is where the actual paddle from the film currently resides.
Matthew McConaughey Based Wooderson On His Brother
Top Notch Hamburgers is also where the world was first introduced to Matthew McConaughey and to his scene-stealing, highly quotable, and a little creepy character, David Wooderson, in Dazed and Confused. Melissa Maerz's Alright, Alright, Alright is cited in a New York Post profile about how the role launched the Oscar-winner's career when revealing that his performance as the mid-20s stoner who still hangs with teenagers was largely based on his own older brother, Pat. Read his description of the man who inspired Wooderson here:
Yeah, that is pretty much Wooderson to a tee, undoubtedly. It appears that when Matthew McConaughey told Richard Linklater, "I'm not this guy, but I know this guy," before landing the role (according to Men's Journal), he was certainly not exaggerating.
Renée Zellweger Has A Brief, Wordless Role In Dazed And Confused
As she mentions during an appearance on Jimmy Kimmel Live!, Academy Award winner Renée Zellweger is actually good friends with Matthew McConaughey after appearing in multiple movies together, including one of the most infamous horror movies ever: 1994's Texas Chainsaw Massacre: The Next Generation. You may not have realized that they are also both in the Dazed and Confused cast because, as The Wrap points out, the actress' character never speaks a word for her brief and uncredited time on camera. Of course, Zellweger had no qualms about how she was depicted in the film, unlike some people.
Richard Linklater's Classmates Sued Him For Defamation After Seeing Dazed
As we know, Richard Linklater borrowed a lot from his own life for Dazed and Confused - including the names of some of the people knew while growing up in Austin, Texas, and much to the chagrin of some of those particular individuals, apparently. In 2004, eleven years after the film's release, The Washington Post reported that Andy Slater, Richard "Pink " Floyd, and Bobby Wooderson filed a defamation lawsuit against Universal Studios and the filmmaker (their former classmate) feeling that the characters who bear their names grossly misrepresented them.
Wooderson is quoted in the article as saying he felt "kicked in the stomach" by the depiction of Matthew McConaughey's role, and Slater adamantly claims he never built a bong in shop class like Rory Cochrane's character of the same name does, but does admit he knew people who did.
Some Dazed And Confused Cast Members Took Mushrooms And Went To A Gun Range Between Filming
While the real Slater, Pink, and Wooderson deny having any similarities to their alleged onscreen counterparts in Dazed and Confused, some cast members would openly acknowledge how life would often imitate art for them during production years later. Probably the most potent example is the following confession from star Rory Cochrane featured in Melissa Maerz's oral history (via Vulture) about one interesting moment that occurred at a shooting range:
A couple of Rory Cochrane's co-stars (including Yellowstone cast member Cole Hauser and Sin City's Nicky Katt) add that they did not partake in the activity the actor describes and did not realize the psychedelic trip he was on at the time. However, Katt says it does explain the moment he saw Cochrane blow a hole in the roof at the shooting range.
Well, that is certainly not alright, alright, alright. However, regardless of how crazy things got behind the scenes, Dazed and Confused is and will remain remembered as great, great, great by most.
Jason has been writing since he was able to pick up a washable marker, with which he wrote his debut illustrated children's story, later transitioning to a short-lived comic book series and (very) amateur filmmaking before finally settling on pursuing a career in writing about movies in lieu of making them. Look for his name in just about any article related to Batman.
Your Daily Blend of Entertainment News
Thank you for signing up to CinemaBlend. You will receive a verification email shortly.
There was a problem. Please refresh the page and try again.