Ben Affleck's Transformation From High School Bully To Award-Winning Actor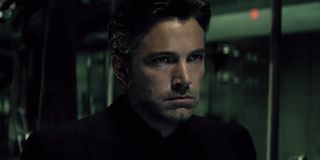 How does one define the career of someone like Ben Affleck? It may depend on what era you refer to.
In the early '90s, he was every high school freshman's worst nightmare, typecast as the school bully in several early films and after school specials. Later that decade, he was every jealous boyfriend's nightmare, typecast as the charming heartthrob with a heart of gold. In the early 2000s, he became every comic book fan's worst nightmare, thought to be forever burdened by his nearly career-killing turn in Daredevil. Then, there came a time when Ben Affleck could even be described as the poor man's Matt Damon.
But everyone deserves a good comeback, and the 46-year-old Boston native is no exception. He has completely redefined himself over the past decade as a highly acclaimed Academy Award-winning writer and director, an active humanitarian, and, above all, Batman.
But, more fascinating than his career in front of (or behind) the camera is his life beyond what graces the silver screen. What more is there to know about Ben Affleck?
His First Acting Experience Was A Burger King Commercial
Ben Affleck was just a teenager in the mid-eighties when he appeared in a commercial for the fast food chain Burger King. The ad predates Uber Eats by almost three decades, but sees the actor as a teenage loverboy who is called on his car phone by a young woman mistaking him for a Burger King deliverer. Watch it below.
Amusingly, when asked about this ad by Michael Strahan on Good Morning America in 2016, he called it his first experience with fame, or more accurately infamy, after a still of his face from the commercial appeared in an Economist piece about Burger King's failing ad campaign at the time.
Ben Affleck Became The Youngest Best Original Screenplay Oscar Winner at 25
In 1998, Ben Affleck and his good buddy and writing partner Matt Damon skyrocketed to fame once they received the Academy Award for Best Original Screenplay for Good Will Hunting. While the moment is most likely remembered more for the duo's anxious acceptance speech, Affleck should still receive credit for still holding the record for youngest person to be given the honor at just 25 years old.
After 15 years without a nomination, he would go on to win the Best Picture Oscar for Argo in 2013. In that same year, he also become the first and only director to win the Golden Globe, BAFTA, Critics Choice, and Directors Guild awards for Best Director for Argo, despite not receiving a nomination in that category from the Academy.
Comic Book Characters Are A Bigger Part Of His Life Than You'd Imagine
Having played a comic book artist, Superman actor George Reeves and, of course, the Dark Knight himself, it is no secret that Ben Affleck and comic books are closely linked. Before he donned the red horns as Daredevil or the cowl as Batman, the actor grew up calling them his heroes.
As an adult, prior to being cast in 2016's Batman v Superman: Dawn of Justice, he even installed a secret door in the library of his former home, a la Bruce Wayne's secret entrance to the Batcave. While the door did not actually lead anywhere, the bragging rights are justified.
Despite not having a Batcave, Ben Affleck does have the suit. Warner Bros. allowed the actor to keep a replica of his alter ego's famed outfit from the set of Batman v Superman: Dawn of Justice, which he later donned as a surprise for his son, Samuel's, 4th birthday. How cool must it be to say your dad is Batman? Or was, more accurately.
He Is A Very Active Charity Worker
In 2010, Ben Affleck founded the Eastern Congo Initiative. ECI is an advocacy and grant-making initiative with the purpose of creating opportunities for economic and social development in the Eastern Congo. The nonprofit organization has raised millions for its purposes.
The actor once participated in an Omaze campaign with his buddy Matt Damon to promote his organization and Damon's charity Water.org with a 2014 viral video. The video was staged as sort of competition, giving fans the opportunity to hang out with Affleck if they donated to ECI or hang out with Damon if they donated to Water.org. The longtime friends hilariously take shots at each other's careers throughout, as you can see below.
His Acting Range Goes As Far As Performing Convincing Impressions
If you look at the five times he has hosted Saturday Night Live, you'll see that Ben Affleck is pretty good at assuming other identities. From impersonating several well-knowns from TV news anchor Keith Olberman to actor Alec Baldwin, Affleck has gained a nice reputation as an impressionist, to some more than others, however. On the set of The Sum of All Fears, he presented co-star Morgan Freeman with his impersonation of him, to which the actor replied, "You ever do that again, I'll kill you."
His Movies Have Proved To Be A Somewhat Effective Dating Service
While his two Razzies for "Worst Onscreen Couple" (Armageddon and Gigli) may disagree, it is usually safe to argue that Ben Affleck has found luck in having chemistry with his female romantic leads. This is due mostly to the fact that it has often turned out to be art imitating life.
If there is anything good he can say about the aforementioned financial disaster Gigli, it led to his first engagement to his co-star Jennifer Lopez, the short-lived first of two "Bennifers" the actor has been a part of.
Speaking of Bennifer II, Jennifer Garner, his ill-fated love interest in 2003's Daredevil, would eventually marry Ben Affleck and have three children Violet, Seraphina, and Samuel. Despite their divorce in 2018, they allegedly remain on good terms.
Most recently, Ben Affleck was connected to on-and-off girlfriend and Saturday Night Live producer Lindsay Shookus, whom the actor was reportedly involved with while still married to Garner. They split up for the second time in months in April 2019.
He And Kevin Smith Have Not Spoken In Years
Most of Clerks director Kevin Smith's most well-known films, such as Chasing Amy, Mallrats, and Jay and Silent Bob Strike Back, have the casting of Ben Affleck in common. The two remained close throughout the '90s into the early 2000s. Ben Affleck even sold Kevin Smith the house that he currently resides in.
But as of late, Kevin Smith has gone on record stating on Twitter and elsewhere that they have not been on speaking terms for sometime. Why is this? Smith himself is not even sure, but he has a theory.
In the above tweet, the director may be referring to when, in 2017, he quoted Ben Affleck as saying that "a man kissing another man is the greatest acting challenge an actor can ever face," in reference to a pivotal scene with co-star Jason Lee in Chasing Amy. Smith's reveal of Affleck having said that caused the actor backlash from supporters of the LGBTQ+ community.
Whatever reason there is for this fallout, hope for a reunion is not too far away as Ben Affleck has expressed interest in appearing in Kevin Smith's upcoming passion project Jay and Silent Bob Reboot.
Hopefully, from this list, you can now say you feel well-versed in knowledge about the rise, fall, and steady rise of Ben Affleck. Be sure to check back here at CinemaBlend for the latest news in film, television, pop culture and a whole lot more.
Jason has been writing since he was able to pick up a washable marker, with which he wrote his debut illustrated children's story, later transitioning to a short-lived comic book series and (very) amateur filmmaking before finally settling on pursuing a career in writing about movies in lieu of making them. Look for his name in just about any article related to Batman.
Your Daily Blend of Entertainment News
Thank you for signing up to CinemaBlend. You will receive a verification email shortly.
There was a problem. Please refresh the page and try again.