Hook: 10 Behind-The-Scenes Facts About The Robin Williams Movie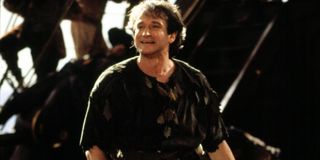 It was 30 years ago when audiences were treated with an answer to the intriguing question of what might happen if a Lost Boy from Neverland who swore he would never grow up, in fact, did. That was the plot of Hook - director Steven Spielberg's 1991 family adventure film starring the late, great Robin Williams as Peter Banning (who has repressed his own memories of being Peter Pan, became a lawyer, and started a family) and two-time Academy Award winner Dustin Hoffman as the sinister, titular pirate captain.
Whether you grew up watching this film on repeat, or you are just beginning to discover it as a grown-up yourself, we have collected a handful of "lost" behind the scenes facts about the cult favorite that you will lose your marbles over, starting with a look at how its magical world of imagination was dreamed into existence.
Six Months Were Spent Building The Sets For Neverland
The distant island of Neverland, where aging is of no concern and pirate ships can fly, is an invention of J.M. Barrie - the author and playwright who first wrote Peter Pan for the stage in 1904, and later as the novel Peter and Wendy in 1911. Never has this wondrous land appeared to be so tangible and gloriously lifelike as when it was depicted in Hook, which required the use of multiple sound stages at Culver City's Sony Studios to build full-size sets. According to a behind-the-scenes featurette from 1991, it took six months to construct Pirate Town, Hook's ship, and the Lost Boys woodland hideaway, which would turn out to be some of the largest film sets on record at the time.
Julia Roberts Was Filmed On Oversized Sets To Appear Tiny As Tinker Bell
Some of the sets built specifically for Hook actually give the term "large" a whole different meaning, as seen in the same inside look at the film we mentioned previously. In order to create the illusion that a then-24-year-old Julia Roberts (fresh off the success of 1990's Pretty Woman) was as small as playing the role of Tinker Bell would require her to be, the crew built props and set backdrops at an elaborately large scale. The future Oscar-winner jokes, while being interviewed about the role for the documentary, that she suggested to Steven Spielberg that he should have cast a shorter actress as the famous fairy, but he insisted.
A Young Leonardo DiCaprio Auditioned For Hook
Speaking of casting what-if's, there are several familiar faces who were up for a variety of roles in Hook (including an especially intriguing one we will get to eventually), and Academy Award winner Leonardo DiCaprio is one of the most notable names on that list. In May 2020, the official Instagram account for Amblin Road (a blog dedicated to the career of Steven Spielberg and his company Amblin Entertainment) posted a photo of the actor in his early years trying out for an unspecified role in the film that he did not end up landing. Of course, the Once Upon a Time in Hollywood star would finally get to work with the filmmaker as the lead of Catch Me If You Can in 2002.
Dante Basco Had To Speak Backwards For A Scene When He Stops His Sword Right In Front Of Robin Williams' Face
Some have speculated that Leonardo DiCaprio may have been auditioning for the part of Rufio, who becomes the successor to the role of "Pan" in the Lost Boys after Peter grows up. Yet, the role would end up going to Dante Basco (uncle of Ella Jay Basco from the Birds of Prey cast), who, I believe, was given one of the most challenging tasks of any cast member on the set of Hook.
There's a scene in which Rufio taunts Peter Banning by just barely striking him the face with his sword and saying, "You're dead, Jolly Man." To pull off the sequence without hurting Robin Williams, Dante Basco was filmed performing his swordplay in reverse after speaking the intimidating line backwards. During a reunion with Hook's Lost Boys cast organized by 22 Vision in 2016, Basco demonstrated that he still knows how to speak the line in reverse 25 years later.
Robin Williams Stuck Up For A Bullied Lost Boy Actor On The Hook Set
While he was the one initially being given a hard time by the Lost Boys onscreen, Robin Williams was actually the one coming to the aid of a young member of the Hook cast who was not being treated so well by his co-stars. Raushan Hammond, who played Thud Butt, was being interviewed for Uproxx's 25th anniversary retrospective, and shared the following heartwarming moment from the set:
While Robin Williams' famously childish and manic comedic energy was part of what got him the lead role in Hook in the first place, this is one of the few off-screen moments in which I would have loved to see him embracing his grown-up side. Those Lost Boys, especially Raushan Hammond, were certainly lucky have him as their Peter Pan. Of course, that would not even be the most exciting moment Hammond and Willliams shared on the set.
None Of The Lost Boys Actors Knew Who Robin Williams Would Pass His Sword To
After Dustin Hoffman's Captain Hook has been defeated, and it is time for Peter Banning to leave Neverland with his son and daughter, he does not fly away without naming one of the Lost Boys as the new leader, after having lost Rufio in the fight. Peter scopes the line-up one by one, and Thud Butt is the one to accept the sword. As Raushan Hammond would reveal in the following quote from People Magazine in 2014, his reaction to being handed Robin Williams' sword was genuine:
This story ran on People's website on August 15, 2014 - just days after Robin Williams' death. Raushan Hammond goes on to describe his lasting friendship with the actor after starring in Hook and how he was developing a sequel at the time called Thud Butt vs. Rufio, for which he hoped to get Williams involved for a cameo.
Dante Basco Helped Fund And Starred In A Fanmade Rufio Prequel Short
One former Hook cast member who did successfully manage to help get a spin-off movie off the ground is Dante Basco. The now 45-year-old actor was involved in the Kickstarter campaign to fund writer and director Jonah Feingold's 2017 short film Bangarang, which offers a glimpse into the life of Rufio before he became a lost boy. While younger Rufio (named Roofus in the film) is played by former So You Think You Can Dance participant Sheadan Gabriel, Basco does appear in the 17-minute Hook prequel as the principal at the main character's school, in honor of the legacy his best known character has acquired.
Carrie Fisher Did Some Uncredited Script Doctoring For Hook
Rufio is, indeed, one of the many reasons why Hook has remained so popular over the years, despite an underwhelming critical reception when it was first released, but another person we can thank for some of its endearing charm is Carrie Fisher. In addition to acting, the late Princess Leia star did some uncredited work on several notable screenplays throughout the 1990s and Hook happened to be one of them, according to a story by Independent released days after her death. The bulk of the article, however, talks about the discreet, little-known cameo she makes in the film - along the creator of the Star Wars movies himself, George Lucas - as a couple in London given the ability to fly when they are sprinkled with fairy dust.
An Unrecognizable Glenn Close Plays Gutless in Hook
I would argue that Carrie Fisher and George Lucas do not even make the most shocking cameo in Hook. In a film with additional appearances by the likes of a young Gwyneth Paltrow as Wendy and rock star Phil Collins as a detective assigned to look for Peter Banning's children, that award easily goes to Glenn Close. A retrospective by Collider highlights how the Oscar-nominee is nearly impossible to spot as a bearded member of Captain's Hook's crew named Gutless, who is punished for betting that Hook would not be able to bring Peter Pan back to Pirate Town by being placed in the "Boo Boo Box" with live scorpions.
Michael Jackson Was Considered To Play Peter Pan In Hook
I would argue, however, that Glenn Close's cameo is not even the most shocking behind the scenes tidbit about Hook. That award easily goes to Michael Jackson who was actually considered for Robin Williams' role when the film was still being developed as a musical in the early 1980s. Steven Spielberg would later reveal to Entertainment Weekly that the late, Peter Pan obsessed pop star was not interested in telling a story about a lawyer rediscovering his childhood and chose to exit the project himself.
I think most of us are thankful that the Peter Pan/Peter Banning role would later go to Robin Williams, especially Steven Spielberg. The director has even said that he is not the biggest fan of how Hook turned out, but was glad he made it for the friendship he formed with the comedian afterward. Bangarang!
Jason has been writing since he was able to pick up a washable marker, with which he wrote his debut illustrated children's story, later transitioning to a short-lived comic book series and (very) amateur filmmaking before finally settling on pursuing a career in writing about movies in lieu of making them. Look for his name in just about any article related to Batman.
Your Daily Blend of Entertainment News
Thank you for signing up to CinemaBlend. You will receive a verification email shortly.
There was a problem. Please refresh the page and try again.