How Black Panther's Ryan Coogler Helped Shang-Chi's Director Join The MCU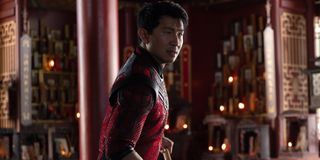 When Shang-Chi and the Legend of the Ten Rings hits theaters next month, it will officially mark a huge turning point in its director's career, Destin Daniel Cretton. The MCU movie is his first blockbuster outing and, with all the buzz surrounding it, there's a lot of pressure on his shoulders for it to succeed. If that sounds daunting, that's because it is -- and it turns out Black Panther's Ryan Coogler played a big role in helping Marvel's newest director prepare for his biggest gig yet.
Destin Daniel Cretton may not be a household name yet, like some of his MCU director counterparts, but that doesn't mean he hasn't earned his right to be named alongside them. The director first started gaining attention with the release of his 2013 indie drama Short Term 12, followed by The Glass Castle and 2019's Just Mercy.
There's a big difference - both in tone and in budget - between his first films and Shang-Chi and the Legend of the Ten Rings, though. So when Cretton was deciding whether he would take on the role of directing Shang-Chi, he had some reservations. But luckily, he got some valuable insight from Black Panther's Ryan Coogler, and it helped him put things in perspective. He said during a press conference (via Slash Film):
Ryan Coogler would know a thing or two about the pressure of transitioning from humble beginnings to blockbuster filmmaking. Like Destin Daniel Cretton, the director got his start on the indie film scene with the critically acclaimed Fruitvale Station, then got his big break with 2015's Creed. Getting advice from someone who made a similar leap was probably the best thing Cretton could have done.
Of course, the Shang-Chi director could not have predicted all the pressures and challenges that would come after he signed on. During production, the film's set was shut down due to the COVID-19 pandemic. The film's release date, along with those of many other MCU properties, was pushed back. Now, Shang-Chi is the subject of a somewhat controversial release "experiment" by Disney -- it will hit theaters exclusively for 45 days before it's available on the Disney+ platform.
All of those logistical hurdles aside, it sounds like Cretton has no regrets about joining the ranks at the MCU. According to Slash Film, the director lauded Marvel's willingness to allow him to take creative risks, and he seems to be satisfied with the end result. Shang-Chi and the Legend of the Ten Rings hits theaters on September 3.
Your Daily Blend of Entertainment News
Thank you for signing up to CinemaBlend. You will receive a verification email shortly.
There was a problem. Please refresh the page and try again.