After Disney Called Shang-Chi's Release An 'Experiment,' Simu Liu Fired Back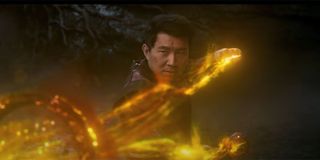 With the ongoing pandemic getting worse, some location-based restrictions around theater attendance and recent box office grosses being less than stellar, there has been a lot of talk about Shang-Chi And The Legend Of The Ten Rings. More specifically, there has been a lot of talk about how Shang-Chi would be released, whether Disney would choose an exclusively in-theater model, a Disney+ premiere offering or some hybrid between the two. Well, the Mouse House CEO Bob Chapek finally provided the answer during an investor call last week, saying in an "interesting experiment", it'll exclusively hit theaters for 45 days and then head to Disney+.
Quite a few media outlets, as well as Twitter users picked up on his usage of the term "experiment" and Bob Chapek's quotes ran around. The response was divisive to say the least. Some saw his comments as a frank and honest analysis of how up-in-the-air everything is right now with movie releases. Others saw it as a bit of a shot at Shang-Chi itself, as if it was relegated to simply an experiment. Lead actor Simu Liu seems to be in the latter camp, as he fired off a social media post saying the movie is not an experiment. You can read his words below…
There are a lot of different people with different perspectives who feel strongly about this situation; so, let me try to break down both of the sides here. In order to properly do that, though, let's first take a look at Chapek's actual comments. In the interest of time, I won't embed the whole thing, but here's the portion in question…
Now, first let's defend Bob Chapek and the Disney executives here for a minute. The experiment he's referring to is clearly the length of the theatrical window, not the movie itself. No one knows exactly how future availability on streaming services affects people's decisions on whether or not to see a movie. The entire industry is in a huge amount of flux right now, and every major studio needs to start figuring out how best to release their movies. Event films with huge budgets like Shang-Chi need to make back a lot of money just to break even. Disney has an entire pipeline of future movies coming, and whether we want to admit it's an "experiment" or not, all movie releases are data points and information to help inform future releases. This is a business, and that's just how it works, especially with so much uncertainty right now.
This situation, however, is more complicated than just one side choosing to see the worst in a CEO's comments. Let's look at the other perspective. Whether fair or not (I haven't seen the numbers), there is a perception among many that Marvel is not promoting Shang-Chi as aggressively as it has other MCU releases. This is important because there are many who feel the success or failure of Shang-Chi will have a tremendous impact on what budgets look like for future films with majority Asian casts and also on popular culture in general. So, in that sense, while this might be just the next movie coming from Disney, it's, in other ways, one specific movie that has a lot of pressure to do well. The word "experiment" also isn't exactly a word with a lot of positive connotations either, and I don't think there's anyone who necessarily wants years of hard work to end up being used as an experiment. So, at minimum, it was not a particularly thoughtful choice of words.
Ultimately, both sides are invested in Shang-Chi doing as well as possible. With its theme parks being closed for long periods of time last year and box office returns on Black Widow and other movies not what was hoped for, Disney and CEO Bob Chapek could really use a big win here. Obviously everyone involved with making the movie wants to see it do as well as possible too. Hopefully both sides can get on the same page here and start investing toward the same goal especially because during production, everyone involved seemed to be having the best time, as you can see in the behind the scenes photos star Simu Liu released as part of his social media post…
Shang-Chi And The Legend Of The Ten Rings opens in theaters on September 3rd. Response to the trailer was very strong, and there is a ton of excitement around the film. Here's to hoping it delivers, and the release date "experiment" proves to be the right decision.
Enthusiastic about Clue, case-of-the-week mysteries, the NBA and cookies at Disney World. Less enthusiastic about the pricing structure of cable, loud noises and Tuesdays.
Your Daily Blend of Entertainment News
Thank you for signing up to CinemaBlend. You will receive a verification email shortly.
There was a problem. Please refresh the page and try again.