Jurassic Park Alum BD Wong Reveals Why He Was 'Bitter' About His Role In The Movie For Years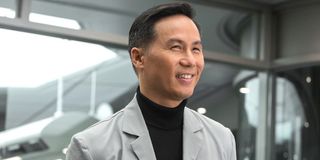 When Jurassic Park hit theaters in 1993, it stunned film fans around the world. The realistic special effects and thrilling storyline had us all believing that maybe dinosaurs could roam the earth again. For at least one of the film's stars, though, the success of Jurassic Park wasn't quite as exciting as you might think. In fact, B.D. Wong admits that for years he felt some bitterness about how the film's story played out for his character on screen.
In Jurassic Park, B.D. Wong played Dr. Henry Wu, one of the scientists involved in taking the ancient dino DNA and turning into the living, breathing creatures that inhabited the park. Despite his relatively minor role, and the sizable body count in that film, we never learned what happened to that character.
B.D. Wong told The A.V. Club that for many years, he didn't have the best impression of the Jurassic Park series due to how his character's role play out in the first film. Here it is in the actor's own words:
Wong's friend was definitely onto something, and ultimately, Dr. Henry Wu did come back into the fold in Jurassic World, serving as a kind of a bridge between the original trilogy and the 21st century reboot. And it sounds like the veteran actor is quite pleased with how Wu is now being utilized:
It is to the filmmakers' credit that they found a compelling way to bring Dr. Wu back into the Jurassic narrative. Now, he has become a bit of a mainstay in the new Jurassic World series. In addition to appearing in Jurassic World, Wong would also co-star in the 2018 follow-up, Fallen Kingdom. And after nearly 30 years, his character will reunite with Alan Grant (Sam Neill), Ellie Sattler (Laura Dern) and Ian Malcolm (Jeff Goldblum) in Jurassic World: Dominion, which hits theaters in June 2022.
Your Daily Blend of Entertainment News