Val Kilmer Is Back For Top Gun: Maverick, And It Turns Out Tom Cruise Had A Lot To Do With That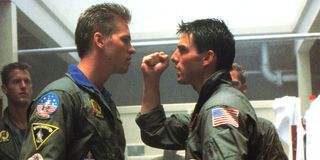 Tom Cruise recently showed off 15 minutes of Top Gun: Maverick and, with that, the film's release is becoming that much more real. The new Top Gun will mix new players like Miles Teller and the veteran stars like Cruise and Val Kilmer. Fans are probably most excited to see Kilmer and Cruise mix it up again on screen and, as you might expect, making the reunion happen wasn't all that easy. But as it so happens, Cruise is a major reason why Kilmer was able to land his role in the long-awaited sequel.
Legendary producer Jerry Bruckheimer recently spoke to People about Top Gun: Maverick and it what it was like to develop the upcoming film. But what was most interesting was his insight into how Tom Cruise pushed to have Val Kilmer in the movie. Bruckheimer explained:
Val Kilmer played Tom "Iceman" Kazansky in the original film and started out as the rival to Tom Cruise's Pete "Maverick" Mitchell, before eventually becoming his partner in the air or "wingman." It will be interesting to see where both characters are in the sequel and if (or how) their relationship has changed. Even though it's unclear what's in store for the two characters, Jerry Bruckheimer said that seeing the two actors together on set was somewhat "emotional" for him. He continued:
Interestingly, Val Kilmer and Tom Cruise had a rivalry off screen, which developed because of Kilmer's acting process and his intense method of truly diving into his character. Kilmer has previously discussed the origins of the feud and where he and Cruise currently stand. That aside though, it would seem the two actors enjoyed their time working together on Tony Scott's classic aviator film.
A Top Gun sequel has been discussed for years, but it seems it took a while to get things off the ground. Apparently, even Tom Cruise needed to be convinced to return to his iconic character. The actor has proven to be very meticulous about his projects, so things have to feel right for him to jump on board. Let's just be grateful that Maverick passed the test and that we'll get to see the actor take to the skies once again, for the first time in over 30 years.
Top Gun: Maverick has faced numerous delays due to the pandemic but is currently set to hit theaters on November 19. The movie looks insane, and the challenging nature of its production is evident by the authentic high-flying action, which should make for a thrilling big-screen experience. One can only imagine what lies ahead for Tom Cruise, Val Kilmer and the rest of the new additions in the highly anticipated sequel, but it'll be exciting to find out.
Your Daily Blend of Entertainment News
Movie and TV obsessive. A good Heist movie is the way to my heart. Enjoyer of everything from Marvel Movies to Rom-coms.