AwardsBlend Podcast #5: Finally, Real Oscar Nominees To Argue Over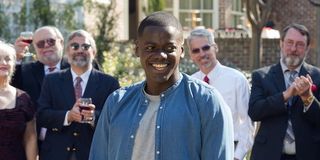 Welcome to AwardsBlend #5, the first episode since we launched this podcast where we finally have actual Oscar nominees to discuss. And discuss them, we do!
AwardsBlend co-hosts Sean O'Connell, Kevin McCarthy and Jake Hamilton hop behind their microphones this week to talk about the various Oscar nominations, where Guillermo del Toro's sci-fi creature romance The Shape of Water led all contenders with 13 noms, but Jordan Peele's Get Out followed right behind. Peele and his colleague, Greta Gerwig, also made headway as first-time filmmakers who broke into the coveted Best Director race. And we made connections to the Screen Actors Guild Awards winners, who all got Oscar nominations -- so we wonder if that makes them frontrunners in their respective categories.
But things really heat up when the guys get into a discussion about beloved cinematographer Roger Deakins, who is nominated for his work on Blade Runner 2049. But he shot it digitally, and the AwardsBlend hosts wonder if the decision to not shoot on film will hurt him in his bid to FINALLY win an Oscar after 13 previous nominations and not one win.
You have to listen to this one:
Now that we have the full field of Oscar nominees, we are going to use the next few weeks to break down the top categories, discussing possible upsets, clear-cut frontrunners, and bold predictions to help you win your Office Oscar Pool. (If your office doesn't have an Oscar pool, start one! We'll help you win some money.)
And if you missed any of our previous AwardsBlend episodes, you are in luck. We have an iTunes page! Visit. Subscribe. Like and comment. Review! We got our first review recently, and it made us so happy. Don't let that one review sit there, all by itself. Add some more, so it doesn't get too lonely. Meanwhile, follow the guys on Social Media at @Sean_OConnell, @JakesTakes and @KevinMcCarthyTV. See you next week, when we break down the Supporting Actor and Actress categories on Thursday, February 1 at 4 pm EST / 1 pm PST.
Movie junkie. Infatuated with comic-book films. ReelBlend cohost. Resident dad. Extroverted introvert. Wants to see the Snyder Cut. Managing Director at CinemaBlend.
Your Daily Blend of Entertainment News
Thank you for signing up to CinemaBlend. You will receive a verification email shortly.
There was a problem. Please refresh the page and try again.