Here's The Full List Of Punishments Issued To Ryan Lochte For His Brazil Shenanigans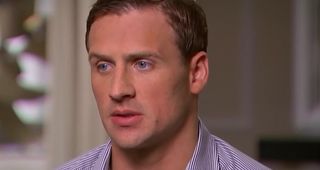 Ryan Lochte can't outswim the drama surrounding his high profile controversy at the Rio Olympic games this summer. Last month, the Olympic swimmer went from national hero as a part of the gold medal-winning U.S. swim team to scandal-ridden spectacle after it was revealed that he lied about being robbed at gunpoint in the Brazilian city, and now Lochte is facing the music.
Lochte's official punishment from the United States Olympic Committee (USOC) and USA Swimming was delivered Thursday, and the ruling is going to have him being a fish out of water for almost a year.
For his highly publicized lie, Lochte will be banned from swimming competitions for 10 months, making him ineligible for the 2017 National Championships and World Championships, and he must forfeit all the prize money he took home for his Olympic gold this year, reports USA Today's Nicole Auerbach (opens in new tab).
The official punishment (listed in the Tweet above) also bans Lochte from an upcoming visit to the White House with Team USA and sentences him to 20 hours of community service.
The ruling sees similar but less severe punishments for Lochte's teammates Gunnar Bentz, Jack Conger, and Jame Feigen, who corroborated Lochte's lie about being robbed in Rio. They will be banned from swimming competitions, but only for 4 months, and they'll also not be included in the Team USA White House visit.
Want to know what's behind these punishments? Here's a #Lochtegate refresher: Back in August, Ryan Lochte claimed that he and his teammates were robbed at gunpoint during a night out in Rio de Janeiro. Soon afterwards, video surfaced that showed Lochte was indeed held at gunpoint, but was not being robbed. In actuality, Lochte and his teammates had vandalized a gas station, and the owner was demanding they pay for the damages.
The scandal went on to cost Lochte major endorsement deals with Speedo and Ralph Lauren after he made a public apology on social media and on air with Matt Lauer.
So it turns out you won't be seeing Ryan Lochte swimming anytime soon, but you will be seeing him hit the dance floor instead of the pool as a contestant on the upcoming season of Dancing With the Stars.
Your Daily Blend of Entertainment News
Thank you for signing up to CinemaBlend. You will receive a verification email shortly.
There was a problem. Please refresh the page and try again.