Anna Camp's Wedding Dress Photos Are Beyond Stunning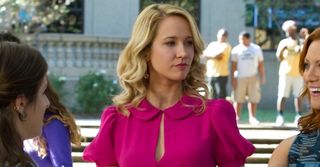 Pitch Perfect, indeed! After getting married to her Pitch Perfect costar Skylar Astin this weekend, Anna Camp shared a number of photos from the ceremony of her breathtaking wedding dress.
Camp was every bit the princess in a billowy white Reem Acra gown, which she paired with Vince Camuto shoes and Neil Lane jewels, PEOPLE reports. Understandably, the actress wanted to share some photos of her flowing dress. Check them out below!
After getting the dress "fluffed," as Anna Camp likes to put it, she gave us an idea of just how much fabric has gone into it, having one of her stylists hold up the train to reveal the long, beautiful white layers.
And the gown is just as incredible from the back! Anna Camp stands in the middle of her team (the Camp camp, maybe? Just a suggestion) surrounded by a sea of flowing white fabric.
And what more could a girl want on her wedding day than the perfect dress? Well, I guess the perfect spouse is also pretty important. Anna Camp began dating Skylar Astin in the summer of 2013, about a year after the release of their film Pitch Perfect. In the movie, Camp plays Aubrey, the neurotic and controlling leader of the all-female collegiate a cappella group the Bellas, and Astin plays Jesse, a film-obsessed new recruit to the all-male a cappella group the Treblemakers. The 2012 movie became a sleeper hit and spawned a successful 2015 sequel and a third Pitch Perfect movie scheduled to be released next year.
Camp and Astin found a successful franchise, and also one another. The actors were beaming as they walked down the aisle at their wedding arm in arm.
Of course, you can't expect Anna Camp to fully the dance floor at her reception with that huge dress on! Camp shared a photo of her afterparty dress, a short, lace and feathers piece designed by Hayley Paige. And instead of high heels, Camp changed into sneakers so she could really get her groove on.
After all was said and done, it wasn't the elegant gown or sparkling jewels that was the most beautiful thing to come out of the ceremony, but the newlyweds themselves. Anna Camp capped off her wedding shots with a photo of herself and her new hubby Skylar Astin driving off in a car filled with roses.
Your Daily Blend of Entertainment News