What The Pitch Perfect Cast Is Doing Now, Including Anna Kendrick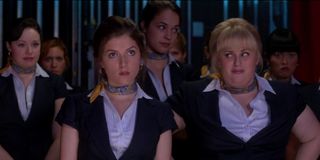 CinemaBlend participates in affiliate programs with various companies. We may earn a commission when you click on or make purchases via links.
In 2012, Pitch Perfect stole our hearts and made competitive college singing groups semi-cool. It then went on to have two sequels: Pitch Perfect 2 and Pitch Perfect 3. The Pitch Perfect franchise made Anna Kendrick, Rebel Wilson, Brittany Snow, Anna Camp, and others big household names. This aca-fun film still has a dedicated fan base willing and ready to pull out a cup when necessary.
It's been several years since the last Pitch Perfect film graced the theaters, and the cast has worked in other projects, everything from scripted television to reality TV show judging and releasing full albums. Let's explore what Anna Kendrick, Rebel Wilson, and the rest of the Pitch Perfect cast has been up to since the last film, and their upcoming projects.
Anna Kendrick (Beca)
Anna Kendrick played Beca in all three Pitch Perfect films. She's a bit of a rebel at first and doesn't take the Barden Bellas that seriously, but she bonds with the women and finds her voice within the group. In May 2021, Kendrick joined the cast of Rodney & Sheryl, a movie about a woman who appeared on a TV dating show and chose a serial killer as her date. In August 2019, Anna Kendrick joined the cast of the crime thriller Unsound. Unsound tells the story of a state trooper who faces the challenge of irreversible hearing loss while investigating the prison escape of a gang member.
In 2021, Kendrick will make an appearance in season 2 of Love Life. She was the lead of season 1 of this HBO Max series. Also in 2021, Kendrick was part of the cast of Netflix's Stowaway. In 2020, she returned to the world of Trolls for Trolls World Tour, and Kendrick had a lead role in the Quibi series Dummy.
Rebel Wilson (Fat Amy)
In Pitch Perfect, Rebel Wilson played Fat Amy, a young woman not afraid to be her unapologetic self, which usually led to comedic gold. As of June 2021, Wilson is currently filming Senior Year, a movie about a cheerleader who wakes from a coma 20-years later and goes back to high school to regain her queen-bee status. Rebel Wilson plays the lead character. She also stars in the upcoming film The Almond and the Seahorse. It's a drama based on the stage play of the same name, and follows people who are suffering from traumatic brain injuries and their families.
2019 was a busy year for Wilson, as she starred in Isn't It Romantic.The film reunited her with Pitch Perfect co-star Adam DeVine. She also starred opposite Anne Hathaway in The Hustle and had a role in the infamous Cats. Also in 2019, Wilson had a supporting role in the Oscar-winning film Jojo Rabbit.
Brittany Snow (Chloe)
Brittany Snow played the simple but sweet Chloe in all three Pitch Perfect films. She was one of the original Bellas who worked to recruit Beca and the others. Brittany Snow will appear alongside Jenna Ortega, Kid Cudi, and Mia Goth in the upcoming A24 horror-thriller X. Details about the film are mainly being kept a secret, but the Hollywood Reporter mentioned the plot surrounding the making of an adult film. Brittany Snow is set to star opposite Luke Bracey in the upcoming film Big Nickel.
In 2017, Snow signed on for the film Stripped with Charlie Cox. As of June 2021, the film, according to IMDB, is still in the pre-production stage. From 2019 to 2020, Snow was one of the co-leads of the short-lived series Almost Family. It followed women who discover that they are sisters because their father was a sperm donor to many children. Also in 2020, Snow co-starred in the romantic comedy, Hooking Up, with Sam Richardson.
Anna Camp (Aubrey)
Anna Camp played Aubrey, the disgraced leader of the Bellas who must recruit new women in order to try to regain the group's former glory. In June 2021, Camp starred in a short film called Graceland that debuted at the Tribeca Film Festival. It followed a Southern mother who must learn to understand her daughter after she claims to be the reincarnated spirit of the king of rock and roll. Camp will star in the upcoming Western Murder At Emigrant Gulch.
In 2020, Anna Camp appeared in two popular Netflix films: The Lovebirds and Desperados. From 2019 to 2020, she had the lead role of Ginny in the short-lived NBC show Perfect Harmony. She also appeared in episodes of Unwanted and Creepshow.
Skylar Astin (Jesse)
Skylar Astin played Jesse in the first two Pitch Perfect movies. He's part of the all-male rival acapella group The Treblemakers. He was also Beca's main love interest in the first two films. Astin played lead character Max on the recently canceled Zoey's Extraordinary Playlist from 2020 to 2021. He also lends his voice to TrollsTopia as Branch.
In 2020, Astin appeared in the films Ghosts of War and Secret Society of Second-Born Royals. From 2018 to 2019, he took over the role of Greg Serrano (who was previously played by Santino Fontana) on Crazy Ex-Girlfriend. In 2019, Astin played the Baker in the Hollywood Bowl production of Into the Woods.
Adam DeVine (Bumper)
Bumper was one of the leading members of The Treblemakers. He eventually softened up his antics a bit in Pitch Perfect 2, and fell for Amy. Adam DeVine lends his voice to the Green Eggs and Ham series as Sam-I-Am. He also voices Poltergeist Pat in Vampirina. Adam DeVine is also one of the lead characters of The Righteous Gemstones. Season 2 is expected to premiere sometime in 2021.
In 2020, Adam Devine appeared in the Disney Original movie Magic Camp. As of 2021, he's set to appear in the animated film Extinct. DeVine has also appeared in the movies Jexi, Isn't It Romantic, Game Over, Man!, The Package, When We First Met, and the series Modern Family.
Ester Dean (Cynthia Rose)
Ester Dean played tough and talented Cynthia Rose in the Pitch Perfect franchise. Dean joined her Pitch Perfect co-star Anna Kendrick in Trolls World Tour. She voiced Legsly. Since 2019, Ester Dean has held judging duties on the reality singing series Songland. As of June 2021, it has yet to be canceled or renewed for a third season.
Dean will be a judge on the upcoming reality series Clash of the Cover Bands. She was a respected songwriter and producer before starring in Pitch Perfect, since the films, she has written songs like "Thinkin Bout You" for Ciara and "Solo Quiero" for Leona Lewis, Cali Y El Dandee, and Juan Magan.
Hana Mae Lee (Lily)
Hana Mae Lee's character Lily was best known for her whispering and the creepy comments she made while whispering. Lily became one of the scene stealers of the Pitch Perfect films. Lee will appear in the upcoming horror film Abruptio. The cast of Abruptio includes James Marsters, Jordan Peele, Robert Englund, and Sid Haig. The film has been in production since 2015 but is rumored to be released in 2021. Lee will also appear in the upcoming film, Habits, starring Paris Jackson and Bella Thorne.
In 2017, Lee played Sonya in The Babysitter. She reprised her role in the 2020 sequel, The Babysitter: Killer Queen. Hana Mae Lee has also appeared in the series Those Who Can't, Patriot, and Perpetual Grace, LTD.
Ben Platt (Benji)
Ben Platt played Benji in the first two Pitch Perfect movies. He was Jesse's roommate, a bit of a magic nerd, and also an aspiring member of The Treblemakers (at least in the first film). Ben Platt will play Evan Hansen in the upcoming Dear Evan Hansen movie. The film is based on the Broadway musical of the same name, where Platt starred in the first production of the show. It's set to debut in theaters on September 24, 2021. It's one of the highly anticipated 2021 movies. Platt will star opposite Lola Kirke and Yvette Nicole Brown in Broken Diamond.
In a little less than 20 years from now, Platt will appear alongside real-life best friend Beanie Feldstein and Blake Jenner in Merrily We Roll Along. As of March 2021, he was in talks to star opposite Allison Janney and Annie Murphy in the film adaptation of The People We Hate At Weddings.
Platt is the lead character on Ryan Murphy's dramedy The Politician. As of June 2021, The Politician has yet to be renewed or canceled. In 2020, Platt appeared on the reality series Songland and voiced a character on The Simpsons. Also in 2019, Platt released his first studio album, Sing to Me Instead.
Hailee Steinfeld (Emily)
Hailee Steinfeld first entered the world of Pitch Perfect in Pitch Perfect 2. She was a freshman recruit and a legacy Bella. As of 2021, Steinfeld plays Emily Dickinson in the Apple TV+ original series Dickinson. In late 2021, she will make her debut in the Marvel Cinematic Universe as Kate Bishop in Hawkeye. In 2022, Steinfeld will reprise her voice role as Gwen Stacy in the sequel to Spider-Man: Into the Spider-Verse.
In 2020, Steinfeld released an EP called Half Written Story. It contains five tracks, including "Wrong Direction," and "I Love You's." In 2019, she appeared in the latest Charlie's Angels movie and Between Two Ferns: The Movie.
Elizabeth Banks (Gail)
Elizabeth Banks played Gail in the Pitch Perfect movies. Gail is one of the announcers for the acapella competitions. Banks also directed Pitch Perfect 2. In 2019, she once again sat in the director's chair for Charlie's Angels. She is also planning to direct the Red Queen series for Peacock, and she will have a major supporting role in the show if it's picked up. Banks will star alongside Sigourney Weaver and Kate Mara in the upcoming drama Call Jane.
In 2019, Banks appeared in the horror film Brightburn. In 2020, she played Jill Ruckelshaus in Mrs. America. As of June 2021, Banks also hosts the game show Press Your Luck on ABC.
The first Pitch Perfect film is currently available to stream on HBO Max. Stream it here.
Your Daily Blend of Entertainment News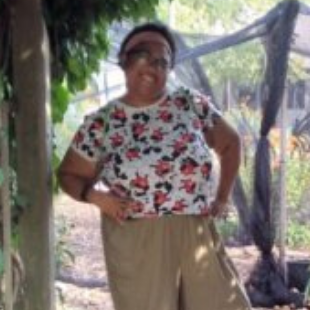 Spent most of my life in various parts of Illinois, including attending college in Evanston. I have been a life long lover of pop culture, especially television, turned that passion into writing about all things entertainment related. When I'm not writing about pop culture, I can be found channeling Gordon Ramsay by kicking people out the kitchen.