Old School, Legally Blonde And 10 Other College Movies And Where To Watch Them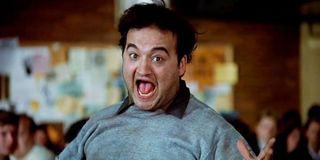 CinemaBlend participates in affiliate programs with various companies. We may earn a commission when you click on or make purchases via links.
Quarantine has taken away plenty of normal everyday experiences, from a typical day at work to walking through the halls of school. But one thing I will never forgive it for is that it took away one of my last years of college, sadly. However, that doesn't mean that all is lost, as there is this beautiful invention of film that has filled my sadness – the college movie.
That's right, I'm talking about movies like Old School, Legally Blonde, Pitch Perfect, and much more. These are the films that got me through those nights in my apartment, slaving away to get my degree, as I could live vicariously through them without feeling like I was missing out on the real experience.
These are the best college movies for you to turn to in your time of need, and will surely get you through much of this tough period.
Old School (Pluto TV)
Sometimes, people just want to relive their college years, and that's exactly the premise of this famous college movie. Will Ferrell, Vince Vaughn, and Luke Wilson star in Old School, with their characters aiming to relive their glory days as depressed 30-year-olds who start their own fraternity. And, of course, hilarities ensue.
One of the reasons I love this movie so much is that it doesn't even just relate to older people who are trying to remember those times in college. It feels like even college-aged students can enjoy this at home, because they want to get back to campus. Occasionally, it's nice to get lost in those memories, but Old School takes that to a whole different level, and that's what makes this film such fun.
Stream it on Pluto TV here.
Rent it here.
Neighbors (Hulu)
One of my personal favorite college films, Neighbors really amps up the college experience, but makes it hilarious. A couple who is just trying to raise their new baby in a nice neighborhood is suddenly interrupted when a fraternity decides to move in next door. Now, it's a war for the neighborhood, and who will ultimately win, whether it will become a new college party hot spot, or remain a nice place for them to raise their daughter.
Seth Rogen is hysterical in this movie, as is Zac Efron, who brings a surprising amount of heart to his otherwise bro-ish character. Their co-stars, including big names like Rose Byrne, Lisa Kudrow, and Dave Franco make this movie so much fun to watch. Plus, it's always nice to see Zac Efron shirtless – and see Seth Rogen compare his dad-bod to his, am I right?
Stream it on Hulu here.
Rent it here.
Accepted (Amazon Prime)
Another college comedy, starring Justin Long and Jonah Hill, Accepted tells the tale of a group of high schoolers who create their own fake college when they are denied acceptance to every college they applied to. But, creating a college isn't necessarily easy, so they start to have some issues with that along the way.
A big part of why this movie is worth the watch is that it really validates the feelings of current college students. While I don't necessarily agree with the way they did things, the students did take their lives into their own hands when no one else would accept them. They decided to embrace who they were and not let society change them, which really speaks volumes. That, and it's hysterical to see such a simple concept be done by a bunch of high schoolers who could possibly send people to jail.
Stream it on Amazon Prime here.
Rent it here.
Legally Blonde (Hulu)
I can't have a college list and not include Legally Blonde. This movie is arguably what made Reese Witherspoon a household name. The plot follows a rich sorority girl who was just broken up with by her boyfriend because she didn't seem to fit the bill of the standard "smart" woman in his family. So, she decides that enough is enough and to get into Harvard Law School to prove to him that she is smart. Guess what? She does.
Not only is Witherspoon perfection in this movie, the story itself really shows what someone is capable of if they just persevere through the trials of life. She is torn down by every single person she meets at Harvard, but ends up proving them all wrong in the end. Also, let me just say that the ending is the best part, but of course, I won't spoil it. You just need to watch for yourself.
Stream it on Hulu here.
Rent it here.
Pitch Perfect 1 and 2 (Hulu)
These movies single-handedly brought back a-cappella to pop culture. Don't @ me! Pitch Perfect tells the story of Becca, a freshman who is just trying to fit in to show her parents that she's not a social outcast, and ends up joining the Barden Bellas, the all-female a-cappella campus group. From there, it's a musical-themed adventure of friendship, love, and of course, singing.
The second movie is still just as great as the first, if not a bit broad with the amount of groups they add to the plot. The music is also fantastic, and Anna Kendrick really rocks it in this role and shows off her singing chops on the big screen. Of course, you can't forget the masterpiece that is Fat Amy, either.
Streaming is unavailable for the first film, but the second one is available to stream on Hulu here.
Rent both movies here (1 and 2).
The Social Network (Netflix)
While it's not deemed a "college movie," The Social Network is still an excellent piece of cinema that everyone should watch, especially if you are into social media and the birth of Facebook. The Social Network tells the story of how Facebook was created, starting out with a young Mark Zuckerberg (played by Jesse Eisenberg) creating a college site to rate women on campus, and from there, a beautiful yet dangerous domino effect occurs.
It's not a shock that Facebook actually began as a college website, so seeing its growth happen so quickly is really interesting, especially for those who might have been around when it first started. Along with Eisenberg, the cast is fantastic, with Andrew Garfield and Justin Timberlake shining in their roles. It's definitely worth the watch.
Stream it on Netflix here.
Rent it here.
Animal House (Hulu)
I mean, obviously, right?
This list is nothing without absolutely the most iconic college film of all time: Animal House. Produced by Matty Simmons of National Lampoon fame, it's the story of a fraternity that takes the phrase "fight the power" to a whole new meaning by taking on their dean and challenging his authority. And, hijinks occur and people get in trouble. A bunch of huge SNL stars signed on for this, so it was a movie that was destined to be great.
But, I can't reveal too much because this movie is a classic for a reason. There are so many iconic scenes and moments that it's a must-watch for everyone, whether you're enrolled in school or not. I viewed this film the night before I went away to college, and I think every college student should give it a shot at least once. It may be an older movie, but damn it's funny.
Stream it on Hulu here.
Rent it here.
Good Will Hunting (Hulu)
Here's another movie that isn't necessarily a college film, but is so good that the college setting makes it important for this list. Good Will Hunting follows the story of Will Hunting, an unrecognized genius who is a janitor. After assaulting a police officer, he begins therapy, and goes on a journey to discover his self-worth, his relationships, and his future.
This movie is known to be amazing, having won two Oscars, one for Best Screenwriting from Matt Damon and Ben Affleck, and Best Supporting Actor for the late, great Robin Williams. Even if there were no awards, the story of how a kid from Boston became someone out of nothing is inspiring for everyone, and the chemistry between Damon and Williams is impeccable. Truly, give Good Will Hunting a shot. It's fantastic.
Stream it on Hulu here.
Rent it here.
Life Of The Party (Hulu)
For all those moms that are living vicariously through their daughter's college experience, this is for you. Life of the Party is about Deanna, who recently got divorced and then enrolled in college to finish her degree, which she had to forgo years before because she was pregnant with her daughter. As soon as she starts classes, she begins to grow close to her daughter's friends, to live her life again, and have fun as she wanted to all those years ago.
Melissa McCarthy is great in her role, as you would expect her to be with all the comedies she has starred in, but what really makes this movie is that it's genuinely sweet. While it is about college, the real theme says that even though you've grown up, it doesn't mean that your life has to go away. Plus, with actors like Maya Rudolph and Matt Walsh, it's most certainly star-filled.
Stream it on Hulu here.
Rent it here.
22 Jump Street (Hulu)
In the sequel to 21 Jump Street, 22 Jump Street follows two cops who are best friends, Schmidt and Jenko, as they go undercover at a local college in order to find the supplier for a new drug that has been making its way around town.
Jonah Hill and Channing Tatum need to be in more movies together because their chemistry onscreen is awesome. You really believe that they are legit cops just looking to blend in, but the way they tie in the themes of friendship and moving on in life all while keeping this film hilariously funny and relevant is astounding. For people who are a fan of these two, this is the film for you. It's popular enough to get its own spinoff, so give it a shot.
Stream it on Hulu here.
Rent it here.
Monsters University (Disney+)
Okay, this one is really just for fun, but come on, it's Pixar. Their movies are always worth a watch. Monsters University is the prequel to Monsters Inc. and tells the story of how Mike and Sully met, became frenemies, and eventually ended up at Monsters Inc. together. It brings back other familiar faces, such as the abominable snowman, and Randall, from the first movie.
While it's not as amazing as its predecessor, it doesn't change the fact that it's a good college movie and, while animated, it shows life as a college student, from the very beginning of the first days of college to partying, studying for midterms, and finals. It covers all aspects of the experience, and is worth the watch entirely. Truly, it can stand alone as its own movie if you think about it.
Stream it on Disney+ here.
Rent it here.
If you're in college, hopefully these can help you pass the time while in quarantine. If not, well, there's always next year, right? Except for the seniors…Oof, too soon?
This poll is no longer available.
Your Daily Blend of Entertainment News
Big nerd and lover of Game of Thrones/A Song of Ice and Fire. Will forever hate season eight. Superhero and horror geek. And please don't debate me on The Last of Us 2, it was amazing!