Hamilton PBS Special's New Trailer Will Put Lin-Manuel Miranda's Lyrics Back In Your Head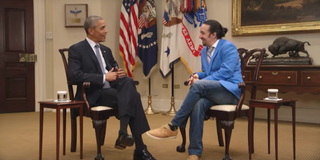 Worried that you threw away your shot to see Hamilton on Broadway? Get ready to smile more, because PBS is preparing to take you into the room where it happened. A month from today, PBS is airing the documentary Hamilton's America, which will tell the story of how Lin-Manuel Miranda crafted his historical, hip-hop smash musical, and chronicle its unparalleled success. Check out the first trailer below.
PBS released a 30-second first look at the upcoming special on Wednesday, which features Miranda's collaborators talking about Miranda's creative process in writing Hamilton, and some famous friends like President Barack Obama and Jimmy Fallon praising the musical.
Hamilton's America promises viewers an intimate look at the two years that led up to the premiere of Lin-Manuel Miranda's revolutionary musical. Fans of Miranda are already aware that he had been working on Hamilton for several years, ever since he picked up a biography of Alexander Hamilton in 2009 while on break from performing in his musical In the Heights. He wrote for the project since then, and it finally made its off-Broadway premiere in 2015 and was extended twice due to popular demand before premiering on Broadway later that year.
Hamilton quickly became one of the most successful musical ever, receiving universal acclaim and selling out of tickets for performances months in advance. It received a record-setting 16 Tony nominations at the 2016 Tony Awards, of which it won 11 to keep its Grammy, Pulitzer Prize, and Drama Desk Award company.
Unfortunately, after a year with the production, much of the original Broadway cast has recently left the show. Lin-Manuel Miranda has stepped away from the lead role of Alexander Hamilton and left it to his understudy Javier Muñoz. Likewise, Leslie Odom Jr. (Aaron Burr), Phillipa Soo (Eliza Schuyler), Renée Elise Goldsberry (Angelica Schuyler), Daveed Diggs (Lafayette/Thomas Jefferson), and Jonathan Groff (King George III) have stepped away from their roles.
But the show is continuing stronger than ever even without a chunk of the original cast. Hamilton is preparing to open a resident production in Chicago in just a few days, and it will embark on a U.S. national tour next year, as well as opening a production in London's West End.
With all those upcoming shows, you'll probably get your chance to see Hamilton live pretty soon, but thankfully PBS will bring you a ton of revolutionary goodness in just a month. Hamilton's America premieres on Friday, Oct. 21 at 9 p.m. ET.
Your Daily Blend of Entertainment News