There's An Actual Ball Pit Bar For Grown-Ups, And It Looks Amazing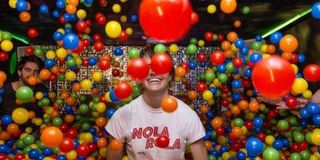 Do you ever miss those days when you were just a carefree kid whose greatest joy in the world was running wild in a Chuck E. Cheese? Well, just think of how amazing an adult play-place that combines the energetic wonders of childhood with the endless joy of alcohol would be. Now stop thinking, and buy your ticket to London --- because it exists!
A new pop-up bar in the London borough of Dalston is basically just a gigantic ball pit for adults to play and drink in while a DJ spins. BallieBallerson is a two-story bar, and the bottom floor contains around 200,000 plastic balls, Metro UK reports. If you're anything like me, your first thought at hearing that would be: "Ew, gross." Ball pits may be fun in theory, but they're also notorious germ pools. Thankfully, BallieBallerson has already thought about and addressed that concern. The bar employs a specialist cleaning machine called "GobbleMuffin" that can disinfect up to 18,000 balls an hour. So feel free to jump right in!
And when you get tired of jumping around the giant ball pit, the second floor offers a more relaxed environment to eat and drink in, but it's still in theme! The upstairs restaurant serves foods that are all ball-shaped, such as meatballs, deep fried balls of cheese, and even pancake balls. You can't bring your food into the ball pit (because, duh gross), but the bar will allow its patrons to bring drinks into the lower area for now. BallieBallerson says hey may change the drinks policy depending on how it plays out, though.
BallieBallerson first opened its doors about a week ago on November 4, and immediately sold out of tickets for weeks following its launch party. The bar is only planning to remain open until December 31, and tickets to get in cost £5 (about $6.25). For those who want to really get the full experience for a bit of a deal, BallieBallerson is offering two hours of unlimited drinks in the ball pit with an hour of unlimited spaghetti and meatballs in the restaurant for £35 (about $44).
So feel free to full indulge in your inner child at whatever age and jump in! Check out some patrons in action in Time Out London's video of BallieBallerson below.
Your Daily Blend of Entertainment News