Brooke Mueller And Her Kids Are Apparently Not In Danger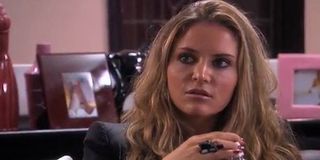 (Image credit: The World According To Paris)
After what was reportedly an alarming display on Tuesday night, Charlie Sheen's ex-wife Brooke Mueller is reportedly back in the right headspace to safely take care of her two sons. The police have allegedly spoken to Mueller on Wednesday morning and confirmed that she didn't break any laws and seems fit to take care of her children after reports that she had taken them to a bar and behaved erratically throughout the night before.
TMZ first broke the story on Wednesday morning that Brooke Mueller was spotted entering a bar barefoot in Salt Lake City, Utah with her twin 7-year-old sons and an assistant in tow. The reports said that Mueller got into a fight with the assistant and a bar patron called the police, but the group left before the cops arrived. Later into the day, TMZ updated the situation to say that Mueller was spotted at various hotels early Wednesday morning and at a car wash, where the outlet's sources allege that Mueller appeared to be high on drugs and dangerous, though her sons pleaded that the cops not be called for fear of their mother being taken away. Now, Utah police have reportedly spoken to Mueller via phone and have decided not to take action, stating that she didn't break a law and that they are convinced she is currently in the right state of mind to remain with her children.
Brooke Mueller has publicly struggled with drug addiction for years, and moved to Utah earlier this year for an outpatient rehab program. After her first publicized stint in rehab in 2011, Mueller stepped away from the spotlight and left her acting career behind to focus on her recovery. A couple years later, Mueller briefly lost custody of her twin sons Bob and Max Sheen, though she was able to continue living with them under the supervision of her brother. In 2014, Mueller regained custody.
Though Brooke Mueller and ex-husband Charlie Sheen reportedly remain friendly, Mueller maintains full custody of their twin sons following the couple's messy divorce in 2011. During the three-year marriage, Sheen had been arrested on suspicion of domestic abuse and Mueller had filed for a restraining order against her then-husband.. During the reports of Mueller's erratic behavior on Tuesday night, Sheen commented that he had no details on the occurrence and that he just wanted to be sure his kids were safe.
Thankfully, it sounds as though Brooke Mueller has cooled down from the alleged events of last night. Honestly, compared to the headlines Charlie Sheen has made over the years, screaming in a bar kind of loses its sting. I mean, at least she didn't call herself a warlock with tiger blood pumping through her veins. I guess I'm setting a pretty low bar for good parenting, huh?
Your Daily Blend of Entertainment News