Chris Pratt Is Clearly The Best At Taking Bad Selfies With Jennifer Lawrence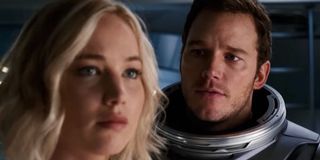 Chris Pratt and Jennifer Lawrence's new sci-fi romance Passengers doesn't look like it's necessarily going to be a bucket of laughs, but the press tour for the new movie is a different story! Pratt has been chronicling the press stops he and Lawrence have been on in the past few days with a bunch of selfies with the same hilarious theme.
Instead of taking a simple selfie of himself and his new leading lady, Chris Pratt has been cropping Jennifer Lawrence out of all the pics he's snapped of them. In each of the several shots that Pratt has shared on his Instagram account, the actor is either somehow obstructing Lawrence's face or only including part of her face in the photo.
Each of the Pratt-filled, Lawrence-light pictures includes a caption that doesn't mention the trend, acting as if there's nothing wrong with the selfies at all.
Fans of Chris Pratt and Jennifer Lawrence know that both actors like to get silly off set, so Lawrence is probably getting as much of a kick out of the gag as Pratt is, but sadly we probably won't see a response from her given that she doesn't have any social media accounts. Lawrence told BBC Radio a couple years ago that she refuses to get any social media accounts because she felt scorned by the Internet after private photographs of hers were leaked online.
Chris Pratt and Jennifer Lawrence are currently doing press for their new movie Passengers, which comes out in theaters on December 21. The movie heavily features Pratt and Lawrence as a pair of love interests who awaken decades too early from a cryogenically induced sleep and find themselves alone on a spacecraft.
Of course, moviegoers around the world are excited to see Chris Pratt and Jennifer Lawrence share the screen, but judging from the current state of Pratt's social media, they're going to just have to wait until the movie comes out to see both of the actors' faces on the same screen.
Your Daily Blend of Entertainment News
Thank you for signing up to CinemaBlend. You will receive a verification email shortly.
There was a problem. Please refresh the page and try again.