Judge Reinhold Got Arrested At An Airport, Here's The Update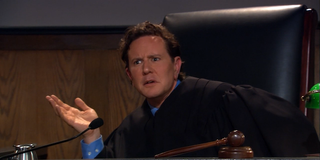 (Image credit: Arrested Development)
A famous judge just got in some trouble with the law. Well, no, not an actual robe-and-gavel judge --- it was actually the actor Judge Reinhold. The '80s movie icon made a scene at an airport on Thursday and had to spend the night in a jail cell. And unfortunately this took place in Texas, so his connections to the cops in Beverly Hills couldn't help him out (Get it? Because he was in Beverly Hills Cop).
Judge Reinhold was arrested in Dallas Love Field airport on Thursday for creating a public disturbance after refusing to go through the airport's security procedures, Reuters reports. Apparently, Reinhold's bag set off an alarm while he was passing through on of the security scanners, so the security agents told him that they needed to pat him down. Reinhold did not realize that he set the scanner off, and argued that the pat-down was unnecessary since he had already been approved by the security measures. This disagreement escalated to a level where the police had to be called and Reinhold was taken into custody and charged with creating a disturbance.
Judge Reinhold has since been released from custody, but records don't show whether he had posted bail or if the charges were dropped. In a statement from Reinhold released on Friday, the actor was apologetic for how he handled the situation, and referred to the incident as the most regrettable two days of his life.
Judge Reinhold went on to try to explain why he became so aggressive at the airport security area, pointing to some deleterious antibiotics that he had taken the day before. Apparently, Reinhold was originally planning to catch a flight on Wednesday, but was prescribed some antibiotics that he had a bad reaction to on that day. He says that he was taken to the hospital on Wednesday to be treated for his reaction and stayed overnight for observation. Presumably, Reinhold brings this up to explain the hostility he displayed when he finally got to the airport on Thursday after spending the whole day before dealing with an illness.
Judge Reinhold will next appear alongside Bruce Campbell in the dramedy Highly Functional and in the action comedy Grandmothers Murder Club, which is the last film Florence Henderson shot before passing away recently.