Margot Robbie Got Married This Weekend, According To Reports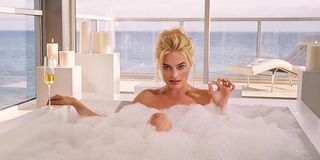 (Image credit: The Big Short)
It's safe to say Margot Robbie had a pretty major year after bringing the iconic DC Comics character of Harley Quinn to the big screen in the long-anticipated Suicide Squad, and she capped off 2016 by reportedly tying the knot with her own puddin'. Apparently, Robbie married her longtime boyfriend in Australia over the weekend.
Though Margot Robbie has been pretty quiet about her three-year relationship with director Tom Ackerley, most outlets are pretty confident that the couple got married while on vacation near the actress' childhood home of Dalby, Australia, Fox News reports (via The Sun). Since Robbie is estranged from her father, she was instead given away by her mother and three siblings.
Margot Robbie and Tom Ackerley have been dating for three years, since first meeting on the set of the war drama Suite Française in 2013. Robbie starred in the film and Ackerley served as its third assistant director. The couple is believed to have gotten engaged over the summer. And Robbie won't only be seeing Ackerley at home for the next few years --- the director has signed on to produce two of Robbie's upcoming films: the thriller Terminal and the Tonya Harding biopic I, Tonya.
Two weeks before the rumored nuptials, Margot Robbie shared a tender pic of her and Tom Ackerley passionately kissing on a dance floor. If their wedding reception was even half as romantic, then I think that they just might make it!
A few months after Margot Robbie and Tom Ackerley began dating in 2013, they got into bed in a professional capacity as well. Robbie picked up and moved in with her boyfriend in London where they began their production company Lucky Chap together, she revealed in a 2014 Vogue cover story. In that interview, she also revealed her insecurities in asking Ackerley out in the first place, claiming that she was averse to relationships but immediately changed her tune after meeting him.
Congrats to the newlyweds!
Your Daily Blend of Entertainment News
Thank you for signing up to CinemaBlend. You will receive a verification email shortly.
There was a problem. Please refresh the page and try again.