Watch Emma Stone React To Andrew Garfield And Ryan Reynolds' Golden Globes Kiss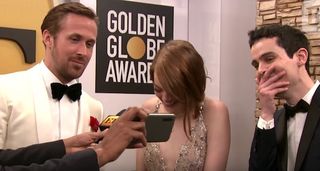 One of the moments that everyone was talking about during Sunday night's Golden Globes ceremony was that surprising kiss between Ryan Reynolds and Andrew Garfield. Although everyone was talking about it online, most of the stars in the room had no idea that it happened until after the show was over; and that includes Garfield's ex-girlfriend Emma Stone. Check out Emma Stone's reaction to the kiss below.
After the Golden Globes had ended, a reporter for Entertainment Tonight showed Emma Stone a video of the kiss to get her reaction. Of course, Stone was surprised to see her ex in a liplock with Ryan Reynolds, but thoroughly enjoyed the saucy little moment. After watching the video with a grin, Stone burst into laughter and called it hilarious.
When Emma Stone's costar Ryan Gosling beat out Ryan Reynolds for the Best Actor in a Musical or Comedy category, Andrew Garfield was there for the Deadpool actor with a surprising kiss. They probably both just needed some love after losing their categories; Garfield didn't wind up taking home the Best Actor in a Drama award that he was nominated for for his role in Hacksaw Ridge, and Reynolds was there for his Deadpool nomination.
But given Emma Stone's light-hearted reaction to the kiss, it looks like there's no bad blood at all between Andrew Garfield and herself following their breakup in 2015. The former couple, who had dated for five years before splitting a little over a year ago, were super supportive of one another during the Golden Globes ceremony. After Stone won the award for Best Actress in a Musical or Comedy for her work in La La Land, Garfield was on his feet sweetly cheering for his former love.
Unfortunately for Andrew Garfield, that kiss with Ryan Reynolds was probably just a one-time thing, as he is happily married to Blake Lively with two children, but maybe there's hope for a reunion for Garfield and Emma Stone? Garfield did admit just last month that he still loves Stone, in an actor's roundtable with the Hollywood Reporter, saying that she would be the one person he'd want to be trapped on a desert island with, and the couple did manage to go strong for five years --- basically an eternity in young Hollywood. According to E! News, the couple decided to break up in 2015 even though they still loved one another because their schedules were simply too busy. Of course, the huge demand for Stone and Garfield has only increased since then, so an official boyfriend-girlfriend reunion might still be too unrealistic, but at least it's good to know they still care deeply for one another.
And if Andrew Garfield ever starts feeling a bit lonely, he can always remember that moment when he made out with Deadpool.
Your Daily Blend of Entertainment News
Your Daily Blend of Entertainment News
Thank you for signing up to CinemaBlend. You will receive a verification email shortly.
There was a problem. Please refresh the page and try again.