Police Confirm Details About Jamie Lynn Spears' Daughter's Accident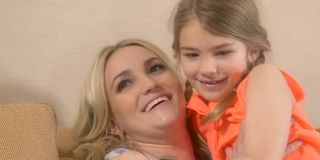 (Image credit: Jamie Lynn Spears: When the Lights Go Out)
After some reports about an accident involving Jamie Lynn Spears' daughter Maddie Aldridge over the weekend, the local police are now filling us in on all the details about what went down.
According to the Tangipahoa Parish Sheriff's Office via Fox News, Maddie Aldridge was driving an ATV around her parents' rural property in Louisiana on Sunday when she and the ATV unwittingly ended up in a pond. She was trapped by her seatbelt as she and the ATV began to sink into the water, where she was submerged until an ambulance arrived to pull her out. The ambulance was called quickly by family members who were nearby when the accident occurred --- they tried to save Aldridge themselves but couldn't free her from her seatbelt and the netting on the ATV. Thankfully, the sheriff's department is reporting that the child is in a stable condition, although it is still critical.
Jamie Lynn Spears' publicist also gave a statement on behalf of the singer and actress, saying that she is asking for privacy during this heartbreaking time and that she is thankful for any prayers or support. Her big sister Britney Spears is sending a lot of love to Maddie as well, and asked her fans to keep her niece in their prayers and wishes in an Instagram post on Monday.
Jamie Lynn Spears gave birth to her daughter Maddie at the age of 16, when she was still starring on the Nickelodeon show Zoey 101. The pregnancy became a subject of huge paparazzi interest, given Spears' young age and her title role in a squeaky-clean teen soap series. A few months before Spears gave birth to Maddie in the summer of 2008, she and Maddie's father Casey Aldridge got engaged, but less than two years later they called off the engagement and broke up.
Jamie Lynn Spears began dating businessman Jamie Watson soon afterwards, and the two are now married and raising Maddie together. Clearly, the family is a huge fan of the outdoors, as both Spears and Watson will post tons of photos of themselves fishing and hunting with Maddie. And it looks like Maddie has had some experience on an ATV before the accident this weekend --- Watson posted a sweet pic of the eight-year-old driving around her mom in an ATV on Thanksgiving.
Hopefully Maddie Aldridge will be making a full recovery so she can get back to having fun with her family very soon.
Your Daily Blend of Entertainment News