76-Year-Old Husband Shoots Wife In Butt For Refusing Sex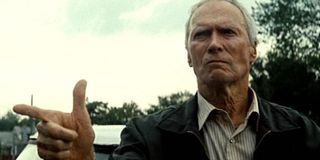 (Image credit: Gran Torino)
One elderly man lost all control when his wife refused to have sex with him. All that pent-up sexual energy turned to horrifying rage real quick, as he picked up a gun and shot her. Thankfully, she is still alive and well, and he is now behind bars.
It all went down in Lehigh Acres, Florida earlier this week. The local Fox 4 station reported that 76-year-old Donald Royce confessed to shooting his wife in the buttocks out of his frustration at her refusing him in the bedroom. Royce had complained that he and his wife had been married since August but had yet to consummate the marriage. The police report states that Royce grew "violently angry" at being repeatedly refused sex by his wife, and was attempting to scare her by shooting the mattress that she was laying on.
Apparently, Donald Royce and his 63-year-old wife share their home with a roommate, who was startled when she heard two gun shots fired off in Royce's room. Before the gunfire, she could hear Royce saying "You will be sorry." When she entered the room to find Royce's wife had been struck in the hip and buttocks, Royce turned the gun on her, but thankfully she was able to convince him to call for medical help.
When the deputies arrived at the house, Donald Royce must have come down from his rage because he immediately confessed to the shooting. He told the arriving officers that he shot his wife and they would find the gun he used in his room. He was arrested and charged with aggravated battery, and his wife is currently recovering from the gunshot in Lee Memorial Hospital.
Donald Royce's wife has been quoted as calling the whole situation a nightmare, and stated that violence against a woman is never okay. The attack was a huge shock to her --- although she and Royce had only been married for a few months, they had been in a relationship together for six years before that, and she said that she never thought he was capable of pulling a gun on her in all that time.
It was Donald Royce's neighbor, April Bailey, who put the whole situation into perspective. In a video interview with Fox 4, Bailey expressed her amazement at a grown man having a temper tantrum over sex, and stated that a woman should have the right to her own body, no matter her age or marital status. Of course, Bailey hits the nail on the head with why what Royce did was so wrong, and it seems like such a simple concept --- but apparently some people seriously can't control their temper. I'm just glad Royce's wife is getting some time to herself right now!
Your Daily Blend of Entertainment News