Dani Mathers May Not Get Off Easy On That Body-Shaming Locker Room Photo Share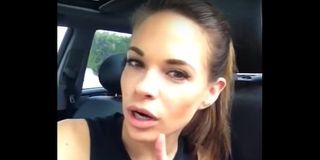 (Image credit: YouTube)
Dani Mathers was once best known for being a Playboy playmate, but now her claim to infamy is an invasive photo that she posted to Snapchat over the summer. Mathers is currently facing an invasion of privacy charge in court as a result of the photo, and although she was hoping an appeal would make the case less harsh on her, the prosecutor pushed back that she's not deserving of leniency.
Last month, Dani Mathers petitioned the court to drop their case to convict her by offering to fully apologize to the 71-year-old year old woman that she shared a nude photo of, enrolling in counseling, and even giving anti-bullying talks to children in schools. But the Los Angeles City Attorney's Office just isn't buying it, The Wrap reports. The city attorney argues in new documents that Mathers has not shown remorse for posting the invasive photo and mocking its subject.
Although Dani Mathers did post a tearful reaction video after tons of social media users pointed out how wrong what she had done was, the city attorney pointed out that Mathers had never actually extended an apology to the woman in the photo. The attorney accuses Mathers of only posting the video to restore her reputation, and demands that she face the full extent of an invasion of privacy conviction.
The city attorney also has the full cooperation of Dani Mathers' victim on his side --- shortly before the matter was taken to court, the 71-year-old woman that Mathers body shamed stated that she would do anything that she could to help a case against Mathers, including testifying in court. So it looks like Dani Mathers might have to do a lot more than just apologize to get off the hook.
In case you forgot what went down, last July, Dani Mathers posted a photo of an elderly nude woman taking a shower in the gym to her Snapchat account, and wrote "If I can't unsee this then you can't either" beneath it. The post was immediately called out online for being invasive and insensitive. Mathers said that she meant to send the photo to a friend, but accidentally sent it out to all her Snapchat followers instead. The matter is now being tried in court on an invasion of privacy charge.
If she is charged, Dani Mathers could face up to six months in jail and a $1,000 fine. And from how things are sounding, that may be exactly what's going to happen.
Your Daily Blend of Entertainment News