Teen Mom Stars Have Some Blunt Things To Say About Farrah Abraham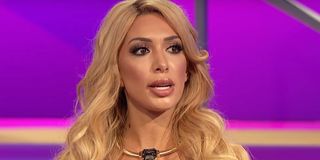 It has been months since Amber Portwood (26) and Farrah Abraham (25), castmates on Teen Mom OG, became violent with each other on the set of the reunion special for their MTV show. Unfortunately, it looks like time does not heal all wounds. The reality-television personalities, along with their fellow castmates Catelynn Lowell and Maci Bookout, still appear to be satisfied with burning the fire of the feud. In a series of short (and separate) interviews, the castmates dished about their behind-the-scenes relationships with one another. Bookout, Lowell, and Portwood made it clear that they had drawn lines between themselves and Abraham. Lowell even refused to acknowledge her at all. Here's what she said:
Catelynn Lowell's passive-aggressive dismissal of Farrah Abraham comes from her individual segment of an E! sit down with the four women. The spat that set the feud on fire happened at the reunion special, when the topic of weekly Snapchat clips by Abraham's boyfriend, Simon Saran (28), came up in conversation. Both Abraham and Saran tried to rationalize his decision to use the word "pedophile" to describe Amber Portwood's fiancé, Matt Baier (45). Instead of trying to make the situation better or apologizing, Abraham contributed to the problem, saying, "I'm sorry that Matt probably looks like it!" Suddenly, Portwood stormed the stage, and the set exploded into an emotional frenzy as if it were The Jerry Springer Show. Portwood attacked Abraham, and Baier struck Abraham's father who had come to the stage to block Amber.
In the interview, Amber Portwood was not so passive aggressive as Catelynn Lowell, in that she at least acknowledged Farrah Abraham. However, she was not exactly friendly either.
Farrah Abraham later responded to the sharp words from her castmates, by declaring she would not include herself in discussions about what the three other women say. She suggested that her former friends are "a circle of never-ending immaturity and unprofessionalism." Then, apparently not grasping the irony, Abraham suggested that she cannot stand by women hating women, declaring:
Yes, it is a shame when people try to pit women against women. We definitely prefer to see people supporting one another through humility and kindness. But it does not sound like any of these women did (or plan to do) anything to resolve their debacle and get along, so we're going to wish them the best for now and jump back to watch that amazing clip of Reese Witherspoon talking about her rock-solid friendships with Nicole Kidman and Shailene Woodley.
Your Daily Blend of Entertainment News
Thank you for signing up to CinemaBlend. You will receive a verification email shortly.
There was a problem. Please refresh the page and try again.