How Marvel Is Responding To The Captain America And Hydra Comics Controversy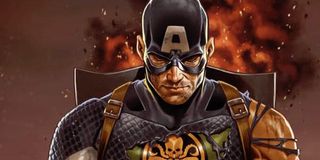 Captain America is still staying true to his heroic roots in the Marvel Cinematic Universe, but since 2016, his comic book counterpart has fully embraced the dark side. Steve Rogers gone through bouts of villainy in the past, but this time it's different, because thanks to some reality re-writing, the superhero has actually been a top-ranking Hydra agent this whole time. This plot twist has drawn waves of controversy over the last year, and those waves have become bigger with the start of the Secret Empire storyline, but with the #1 issue of the event now available, Marvel Comics is urging readers to read through the whole story before finalizing their thoughts on what's happening. The company stated:
Marvel Comics provided this statement to ABC News, adding that Captain America is a "cornerstone" of the Marvel universe and that his "heart and soul" are what will "save the day against Hydra." So as is usually the case with Marvel (and DC) comics, it sounds like fans can expect things to revert to normal, which in this case means Captain America returning to being a hero...eventually.
In case you haven't been paying attention to Captain America's comic book adventures over the last year, here's the basic overview: when Steve Rogers was restored to his youthful age during the Avengers Standoff! storyline upon making contact with fragments of the Cosmic Cube, his past was also rewritten due to tampering from his arch nemesis, the Red Skull. While most (if not all) of the Star Spangled Avenger's heroic acts are still intact, in this new reality, he's secretly been working for Hydra the whole time. His status with the terrorist organization was finally made public in Secret Empire #0, and the rest of the series sees him, his fellow HYDRA operatives and other super villains rising to worldwide power and hunting down Marvel heroes.
The primary reason for the outrage over this Captain America twist is due to Hydra's ties to the Nazis. Having a patriotic hero working with his greatest enemies isn't a great look. While Marvel plays it loose with how closely connected Hydra is to the Nazis in the comics, thanks to the MCU movies, many people understandably associate the two factions with each other. Even the Agents of S.H.I.E.L.D. TV series has been making its case for why they're one and the same.
All this, combined with how elements of the storyline are echoing real life current and political events, are why a lot of fans are up in arms about how Captain America is currently being handled on the printed page. Since the Secret Empire event is just getting started, there will definitely be more shocks and twists in the coming months, but whether or not those upset with Captain America' treatment will be satisfied how this whole thing plays out remains to be seen.
You can find Secret Empire #1 digitally or at your local comic book store now, and issue #2 will be released on May 17.
Connoisseur of Marvel, DC, Star Wars, John Wick, MonsterVerse and Doctor Who lore. He's aware he looks like Harry Potter and Clark Kent.
Your Daily Blend of Entertainment News
Thank you for signing up to CinemaBlend. You will receive a verification email shortly.
There was a problem. Please refresh the page and try again.