Why Salvador Dali's Remains Are Being Dug Up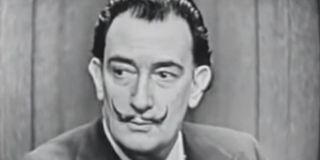 This story is surreal. A 61-year-old woman in Spain claims the late artist Salvador Dalí is her biological father. The woman, who works as a tarot card reader, took her claim to court, and a judge in Madrid ordered the exhumation of the surrealist artist's remains to compare the woman's DNA to his. If there is a match, the woman stands to inherit a vast fortune.
María Pilar Abel Martínez, the woman who claims to be the daughter of Salvador Dalí, says the artist and her mother had a love affair in the 1950s. According to BBC, Martínez claims her mother always insisted Dalí was her biological father. When Martínez took her case to court, the judge said testing DNA from Dalí's bones was the only way to determine paternity because there are no other biological remains.
If tests found María Pilar Abel Martínez was Salvador Dalí's biological daughter, Martínez could inherit up to 25 percent of his estate and fortune, so some people are not happy about the prospect of digging up Dalí's remains. In fact, the Gala-Salvador Dalí Foundation is furious about the judge's decision in favor of Martínez's paternity research. The foundation wants to prevent the disturbance of the artist's remains, so it is coordinating with the State Attorney to prepare an appeal to the judge's decision. The foundation released a statement and said,
But the plot thickens. Apparently, it is not the first time María Pilar Abel Martínez has tried to uncover the truth. Martínez says she had paternity tests done in 2007 and 2008 using preserved samples from Dalí's body. However, Martínez claims not to have received the results of those tests, which she believes to be an indication the results came back positive -- as if someone was covering up the truth. (This sounds like a Dan Brown novel!)
María Pilar Abel Martínez says her mother and Salvador Dalí's love affair happened in the 1950s in Port Lligat, Spain, where Martínez's mom worked as a maid. At that time, Dalí was still married to his wife, Gala Dalí, whom he had wed in 1934, so the painter and Martínez's mother supposedly had a secret relationship. According to The Dalí Museum, the Dalís were "distancing" themselves from each other around the time María Pilar Abel Martínez was born in 1956, but they remained married and never had any children.
Salvador Dalí died in Figueres, Spain in 1989 at the age of 85. His remains are buried in a crypt at a theater Dalí designed. At this time, there is not a date set for the exhumation, but reports say it could happen sometime this summer. Therefore, the Gala-Salvador Dalí Foundation should act soon if it wants to put a stop to the research.
We'll be keeping our eye on this story. It sounds like a great mystery movie plot.
Your Daily Blend of Entertainment News