OJ Simpson Has Been Granted Parole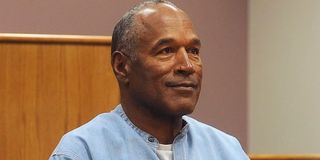 After serving nine years of a 33-year prison sentence for armed robbery and kidnapping, O.J. Simpson will be free to leave prison this fall. On Thursday, July 20, four members of the Nevada State Parole Commission reached the unanimous decision to grant Simpson parole in October. The Commission made its decision after hearing testimonies from Simpson's eldest daughter as well as Simpson himself and one of the victims from the 2007 case that put the former professional football player behind bars.
Several major television channels and gossip websites, such as TMZ, broadcast the parole hearing at Lovelock Prison in Las Vegas, Nevada. During the hearing, O.J. Simpson testified he had not intended to harm the sports-memorabilia collectors whom he and five accomplices attacked at a Las Vegas hotel-and-casino in 2007. Simpson insisted he had wanted to recover personal belongings, but not to harm anyone during the incident.
O.J. Simpson was up for parole after shaving off years of his original sentence through good behavior. He emphasized his conduct at Lovelock and stated,
O.J. Simpson's daughter, Arnelle Simpson, read a statement and stressed what a challenge the nine years had been. Arnelle Simpson pleaded for her father's release and stated,
Clark County prosecutor Steve Wolfson said he would not oppose the request for O.J. Simpson's parole. Furthermore, one of the victims of the robbery, Bruce Fromong, testified at the hearing in favor of Simpson's release and even called Simpson a friend. Fromong stated,
Alfred Beardsley, the second victim in the 2007 incident, passed away in November 2015. However, O.J. Simpson's attorney, Malcolm LaVergne, stated that Beardsley reached out to him several years ago to express his forgiveness of Simpson.
The parole hearing included some odd moments. At one point, for example, Malcolm LaVergne misplaced a letter Simpson sent to Las Vegas Assemblyman Ozzie Fumo from prison. LaVergne asked Simpson if he had taken the letter, and LaVergne accidentally knocked papers onto the floor while looking for it. Upon finding the letter, LaVergne read it to reveal how Simpson used the communication not to ask for a lighter sentence, but to request educational resources for other inmates at Lovelock.
However, toward the end of the letter, O.J. Simpson had written about taking a computer class at the prison and pondered the possibility of one day starting a webcast series. Upon reaching that part in the letter, LaVergne paused and shook his finger, and Simpson immediately laughed, shook his head and said, "No."
Instead, O.J. Simpson told the court he hoped to move from Nevada to Florida for a quiet life with family and friends if the court granted him parole. He joked,
A commissioner responded,
In 1994, O.J. Simpson was the prime suspect in the murders of his ex-wife, Nicole Brown, and her friend, Ron Goldman. The trial became one of the most publicized court cases of all time. The year-long trial was a media circus and ended in Simpson's acquittal, a verdict that still polarizes many. Following the spectacle of the double-murder trial, a civil court found Simpson liable for the two deaths and sentenced the former Buffalo Bills player to pay $33.5 million in damages, an amount he still owes.
The telecast of O.J. Simpson's recent parole hearing harkened back to the major media storm surrounding the double-murder trial. It is clear people are still interested in the former professional football player's life. In fact, the double-murder trial has received renewed attention in recent years thanks to the success of shows like Ryan Murphy's American Crime Story and the Academy Award-winning OJ: Made in America. Here's hoping O.J. Simpson avoids the extra attention and sticks to his word about retreating to Florida for a quiet life now that he has been granted parole.
Your Daily Blend of Entertainment News
Your Daily Blend of Entertainment News
Thank you for signing up to CinemaBlend. You will receive a verification email shortly.
There was a problem. Please refresh the page and try again.