Julia Louis-Dreyfus Has Been Diagnosed With Breast Cancer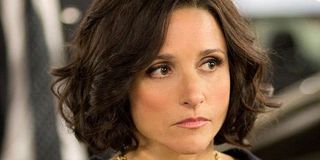 Julia Louis-Dreyfus recently made history at the 2017 Emmys. Now the beloved 56-year-old actress has revealed she has breast cancer. Louis-Dreyfus hopped online to post an image that not only announced her condition but also raised awareness of the prevalence of breast cancer and the need for universal healthcare. The comedic actress tweeted,
Julia Louis-Dreyfus shared the announcement with her 767,000 Twitter followers. In the tweet, the actress wrote "Just when you thought..." which people could take several ways. The most obvious reference is that Louis-Dreyfus was on top of the world days ago when she made history at the Emmys by breaking the record for the most Emmy wins for a single role. Louis-Dreyfus scored her sixth Emmy Award for Outstanding Lead Actress in a Comedy Series for Veep and overtook the long-held record Candice Bergen held for Murphy Brown. Now with eight Emmys, Louis-Dreyfus is tied with Cloris Leachman for the most Emmy wins by a single performer. Thus, Louis-Dreyfus has encountered a roller coaster of extreme highs and lows.
After Julia Louis-Dreyfus revealed her breast cancer, HBO released a statement to the press. The network wrote,
It sounds like the Seinfeld and Veep actress may have caught her breast cancer early enough that she and her support team can deal with it swiftly. Speaking of support, Julia Louis-Dreyfus received an outpouring of loving comments from fans who let her know how much she means to them. For example, one of Louis-Dreyfus' followers said she "burst into tears" as if Louis-Dreyfus were her "friend IRL."
Then some of Julia Louis-Dreyfus' followers shared their personal stories---some sad and some upbeat. For example, one man wrote that his daughter had received the same diagnosis nine years ago and beaten breast cancer. He urged Louis-Dreyfus to remain positive and "deal with it one step at a time."
A few familiar names appeared in the comments section of the tweet. For example, podcaster Tyler Oakley sent an emoji of an envelope with a heart. Similarly, Wanda Sykes, Louis-Dreyfus' friend and former co-star on The New Adventures of Old Christine, reached out to Louis-Dreyfus with supportive words. Sykes, who herself revealed she had beaten breast cancer with an aggressive double mastectomy in 2011, wrote,
In a heartening turn, many breast cancer survivors also sent encouraging words in the comments section. For example, one follower told Julia Louis-Dreyfus,
Many other breast cancer survivors responded in similar ways, often with the refrain, "You've got this." Hopefully, Julia Louis-Dreyfus is getting all of the help she needs. We're sending positive thoughts to her with hopes for a full and speedy recovery.
Your Daily Blend of Entertainment News
Thank you for signing up to CinemaBlend. You will receive a verification email shortly.
There was a problem. Please refresh the page and try again.