Gabrielle Union Admits She's Suffered More Than 8 Miscarriages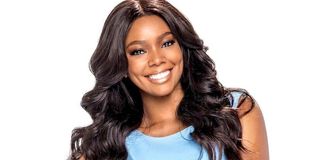 Gabrielle Union has revealed she experienced several miscarriages while trying to have a baby with her Cleveland Cavaliers husband, Dwayne Wade. In a new memoir, Union opens up about the agony she encountered during her three-year ordeal with in-vitro fertilization, and she discusses the grief of having unsuccessful pregnancies. Union writes in her book We're Going to Need More Wine,
Apparently, Gabrielle Union didn't think she wanted kids when she and Dwayne Wade married in 2014. However, her feelings about having children changed as she fell in love with being a mom to his boys. As she tells it (via People), the 44-year-old Being Mary Jane actress adores being a role model for Dwayne Wade's children--his nephew and his two sons from a previous marriage. Union said becoming a stepmom influenced her hopes for children because she realized all she wanted was to be with her family.
Unfortunately, having a child has yet to happen for Gabrielle Union, and apparently, the hardship has not ended at the miscarriages. For example, the IVF treatments were an uphill battle that caused extreme bloating. Plus, she indicated she felt the need to hide her struggle when people brought up the topic of kids. Union said it was painful to field invasive questions about her desire to have children.
Gabrielle Union suggested many women who have difficulty conceiving feel hurt by questions from people who think they are "entitled" to probe. So, by speaking out about this frustration in We're Going to Need More Wine, Union stands in solidarity with other women who have ever had difficulty getting pregnant. Moreover, she might help to open the eyes of people who ask questions of women who do not have children.
Gabrielle Union is not the only star who has spoken about how frustrating it is when people are too inquisitive. For example, Chrissy Teigan talked about it with Tyra Banks on FABlife. Teigan said she fields questions about kids but never asks other women questions because "you just don't know what's going on behind closed doors and what's going on in other people's lives." She usually tells people that one day they're going to ask the wrong girl and hurt her. Then Banks, who now has a baby boy thanks to surrogacy, became emotional and said she regularly faced those questions on social media.
Thus, Gabrielle Union is not alone when it comes to her frustration over the baby questions. The experience she had with IVF is personal and heartwrenching, so Union would have every right to be upset. It is great that she is speaking out because it suggests she is no longer hiding. Instead, she is embracing the heartbreak and using it to help others.
Your Daily Blend of Entertainment News
Your Daily Blend of Entertainment News
Thank you for signing up to CinemaBlend. You will receive a verification email shortly.
There was a problem. Please refresh the page and try again.