Game Of Thrones' Sophie Turner Is Engaged To Joe Jonas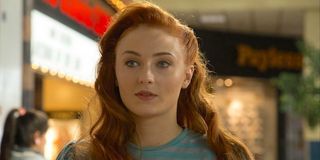 Congratulations are in order for singer Joe Jonas and actress Sophie Turner. The Hollywood couple recently announced that they got engaged. Jonas and Turner both posted a romantic photo of her hand on his to show the Game of Thrones star's new engagement ring. They added slightly different captions with Turner writing "I said yes," while the DNCE singer wrote, "She said yes." Take a look:
Joe Jonas shared the picture with his 6.4 million followers on Instagram, while Turner's 6.9 million followers on the same social media platform caught the image, as well. Their fans welcomed the news with warm compliments and congratulations. Collectively, the picture has received about 2.5 million likes so far. Furthermore, Joe Jonas' and Sophie Turner's family members and friends in Tinseltown got in on the action. For example, Nick Jonas, the "Cake by the Ocean" singer's younger brother also of Jonas Brothers fame, expressed excitement over the news and wrote,
Even Joe Jonas' teenage sweetheart, pop star Demi Lovato, shared happy words. She and Jonas worked together back in the day on Camp Rock, so she sent congratulations to her ex and his new fiancee. Lovato wrote,
The rumor mill began circulating reports that Joe Jonas and Sophie Turner were dating in November of last year when he appeared with her on the red carpet at the MTV EMAs. Later that month, a friend shared pictures of them together at a wedding. By the beginning of this year, the paparazzi had caught up with the couple other times, including once after Jonas had brunch with Turner's family in London.
However, the pair remained quiet about their relationship for a while longer. Even at the Golden Globes in January when Mario Lopez asked Sophie Turner point blank if she were dating Joe Jonas, she wiggled out of the question and said she was "very happy." Over the next six months, the couple began easing up a bit. For example, people spotted them holding hands at the airport in France for fashion week in March. However, they still were not answering many questions, and when they attended the 2016 Met Gala, they did not even appear together on the red carpet.
Everything changed over the summer. In July, Sophie Turner mentioned Joe Jonas directly in one interview, and confirmed that she was, indeed, in a relationship with someone in another article; however, the X-Men: Apocalypse star tiptoed around the details. Then in September, the couple adopted a dog and photographers caught them walking their new pup in NYC. Now everything has come full circle with the loud and proud engagement announcements on social media. This couple is super cute, so we wish them all the best.
Your Daily Blend of Entertainment News
Your Daily Blend of Entertainment News
Thank you for signing up to CinemaBlend. You will receive a verification email shortly.
There was a problem. Please refresh the page and try again.