Marvel Writer Brian Michael Bendis Is Switching To DC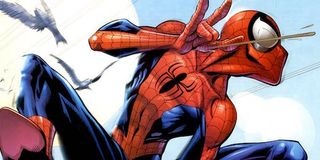 If you've been reading Marvel Comics over the last two decades, then chances are you're familiar with writer Brian Michael Bendis. After kicking off his comic book career penning stories for Caliber, Image and Oni Comics, Bendis joined Marvel in 2000, and since then he's been instrumental in shaping the Marvel Universe...scratch that, several Marvel universes. However, Bendis' regular gig with Marvel is now concluding, as he's decided to hop over to DC Comics.
DC announced earlier today that it has signed Brian Michael Bendis to an exclusive, multiyear and "multi-faceted" deal. The company didn't elaborate on what its plans are for Bendis, though given Bendis' prominence in the comic book industry, no doubt it won't be long before we learn what title(s) he'll be working on. As for Bendis himself, he summed up his excitement for this career shift with the following tweet:
Brian Michael Bendis kicked off his Marvel career in 2000 by penning Ultimate Spider-Man, a series that followed a teenaged version of the Web-Slinger in a reality separate from the main Marvel Comics continuity so that new readers wouldn't be bogged down by decades of stories starring Stan Lee and Steve Ditko's original creation. Bendis' original Ultimate Spider-Man run lasted 133 issues, 111 of which he was paired with artist Mark Bagley. After that run ended, Bendis continued writing Ultimate Spider-Man stories, during which time he created Miles Morales, who succeeded that world's Peter Parker as the Wall-Crawler and is still spinning webs in the main Marvel universe. Ultimate Spider-Man also led to other titles filling out Marvel's Ultimate universe imprint, which concluded in 2015 during the Secret Wars event.
As for Marvel's primary universe, Brian Michael Bendis's accomplishments include creating Jessica Jones for his Alias series (not to be confused with the ABC TV show), as well as writing notable runs of Daredevil, X-Men, The Avengers and Guardians of the Galaxy. He also worked on miniseries like House of M, Secret Invasion, Siege, Avengers vs. X-Men, Age of Ultron and Civil War II. Bendis' final Marvel book will be the current Jessica Jones series, the 14th issue of which is coming out tomorrow.
Which brings us to Brian Michael Bendis now being a DC Comics contributor. While it's anyone's guess for now what he'll write first, I'm hoping he'll work on a Shazam book. Geoff Johns reintroduced the character in the New 52 a few years back and later included him in his Justice League run, but since Johns is busy with Doomsday Clock and his other DC media duties, it's unlikely he has time to return to Billy Batson's world. With a Shazam movie on the way, this would be a great way to utilize Bendis' talents and give the World's Mightiest Mortal exciting new adventures on the printed page just in time for his theatrical debut.
If you have your own ideas on which DC title Brian Michael Bendis should write, feel free to let us know in the comments below.
Your Daily Blend of Entertainment News
Connoisseur of Marvel, DC, Star Wars, John Wick, MonsterVerse and Doctor Who lore. He's aware he looks like Harry Potter and Clark Kent.