Jessica Jones Season 2: What We Know So Far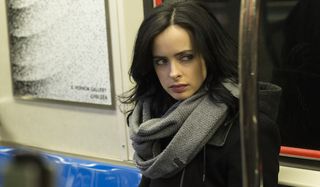 Netflix's latest trip into the small screen MCU gave viewers Frank Castle's intense and stressful first live-action series, but since The Punisher didn't tie in with the Defenders heroes, it was the super-bloody outlier. Thankfully, a more interconnected New York City will return with Jessica Jones Season 2, which will be the first official follow-up season for any of the Marvel shows beyond Daredevil. And, like most Marvel projects, a cloud of mystery has hung over the production, keeping fans from knowing too much.
Well, the wait for Krysten Ritter's boozy brawler is shrinking by the day, and we're gearing up for Season 2 by laying out all the Jessica Jones knowledge that has come out already. From premiere dates to plotlines to casting additions, it's all here. Now let's start off by learning when we can finally watch the damned thing.
Needless to say, there will be spoilers for Jessica Jones Season 1 from this point forward.
When Does Jessica Jones Season 2 Premiere?
Jessica Jones Season 1 premiered all the way back in November of 2015, so fans have been waiting an insanely long time for Season 2 to get here. (Admittedly, the wait was buffered by the release of The Defenders, but it wasn't the same.) But, we finally know when we'll get more door-smashing fun, and Netflix will bring all 13 Season 2 episodes to fans on Thursday, March 8, at 12:01 a.m. PT.
Dropping Jessica Jones out on a Thursday is quite an interesting change-up from the norm, which sees the majority of Netflix's biggest titles getting Friday morning releases. Perhaps this is the streaming service's version of movie theaters releasing movies earlier and earlier on Thursday evenings to drive up weekend grosses. Whatever the reasoning, we're not going to complain about getting Jessica Jones a day earlier than normal.
What Have We Seen So Far From Jessica Jones Season 2?
As it usually goes with Netflix shows, Jessica Jones still hasn't dropped any big extended trailers just yet, even though Season 2's launch is just a month away. That said, once the visual marketing gets started, it'll be a steady stream of denim-clad super-powered action until the new season goes live. Thankfully, Netflix hasn't kept us completely in the dark, offering up the images seen throughout this feature, as well as a mysterious and awesome trailer. You can check it out below!
The Plot
Unsurprisingly, Netflix is keeping a pretty tight lid on what to expect from the plot of Season 2. The major plot thread left hanging after Season 1 was the mysterious organization IGH, which not only supplied Will Simpson with his Combat Enhancers but also paid Jessica's medical bills following the car crash that killed her mother, father and brother. The trailer indicates that Season 2 will definitely delve into the crash, what happened after, and how Jessica got those special abilities of hers. It's still unclear whether they were the ones who caused the crash or if they even somehow gave her those special abilities. Now that Trish has those files she received from her mother, she and Jessica should be able to dig up some information.
Aside from IGH, the only other thing that's guaranteed is Jessica protecting her section of New York City from another threat, whether that threat has special abilities or is simply resourceful. It's difficult to image a villain darker and more terrifying than Kilgrave, but Jessica Jones may be able to pull it off.
What New Characters Will Jessica Jones Season 2 Introduce?
A new female character who will be a regular is listed as "Ingrid," although she may in fact be Typhoid Mary. She'll be played by Leah Gibson of The 100 and The Returned. The character is a bisexual nurse with street smarts. If she is indeed Typhoid Mary, Jessica and her pals are going to be in a lot of trouble given Mary's three distinct personalities.
J.R. Ramirez of Power and Arrow fame will play a single father named Oscar. He moves into Jessica's building as the new superintendent, and his son takes a shine to Jessica. Ramirez will be a regular, so we should see a fair amount of him. Will he be Jessica's new love interest?
Oscar-nominee Janet McTeer will appear as a character that will "have an enormous impact on Jessica's life." Jessica Jones hasn't let any details about her character leak just yet, which hopefully means that she'll be such a game-changing character that the folks behind the scenes don't want her spoiled in any way, shape, or form.
A male scientist in his 60s is on the way as a regular. The casting description named him as "Dr. Kirby," but the odds are pretty good that he's actually a Marvel Comics mad scientist by the name of Karl Malus and has an affiliation with IGH.
A male described as "intelligent" and "self-assured" will be on board as a fractional series regular, which means that we may not see him in every episode. His character is listed as "Presley," but rumor has it that he's actually Paul Denning/Paladin, who in Marvel Comics is a lothario private detective with a code of honor.
A series regular named as "Oliver" will debut as well. He's paternal, scruffy, and potentially an adaptation of the comics character Otis Johnson, who ended up with Luke Cage-esque powers after a chemical accident.
What Characters Are Returning For Jessica Jones Season 2?
We can count on a bunch of familiar faces in Season 2, although we'll have to wait and find out for ourselves if any Defenders show up. Krysten Ritter will, of course, be back as Jessica, and Rachael Taylor will reprise her role as Trish Walker. Eka Darville will return as (a hopefully clean and sober) Malcolm Ducasse, and Carrie-Anne Moss can be seen kissing a mysterious woman in the trailer as Jeri Hogarth. Also, in a twist that is pretty fabulous for viewers but pretty awful for Jessica, David Tennant will be back as the evil Kilgrave.
Where We Left Off: Jessica Jones
Over 13 episodes, we saw how much Kilgrave's manipulation had tainted Jessica's life, and once she discovered he was still alive, she immediately set out to stop his reign of terror. While originally intending to simply imprison him and have him confess his crimes, Hope's death pushed her to end him permanently. It helped that he no longer had any control over Jessica, allowing her to deceive him into trusting her and snuffing out his life in an instant. The monster who ruined her life was finally gone.
Unfortunately, post-traumatic stress doesn't just go away, and even though Kilgrave is dead, he's still going to loom over her life. Along with the other tragedies she's dealt with, Jessica is a hardened individual, and that's not likely to change. So, while following her career as a private investigator, Season 2 will also continue to explore her struggling with her inner demons. While it's doubtful she'll ever fully embrace being a superhero, maybe she can at least move closer to feeling more at peace with the world.
Where We Left Off: Trish Walker
After Jessica was first controlled by Kilgrave, she cut off contact with Trish Walker, her best friend and adoptive sister, to keep her safe. When the madman returned, Trish helped out as best as she could this time around, using her radio show as a platform to let people know about Kilgrave and assisting Jessica and Will Simpson with ops. In the Season 1 finale, she was nearly turned into Kilgrave's sex slave, but, fortunately, Jessica was able to eliminate him before that happened. We also saw in flashbacks that Trish was pushing Jessica to use her powers to help others, so if anyone can convince the private eye to go full-superhero, it's her.
Speaking of being a superhero, comic book fans know that on the printed page, Trish Walker also fights crime as Hellcat. Rachael Taylor recently expressed interest in becoming Hellcat, and Trish's martial arts training in Season 1 could surely set her up to battle goons by herself. The trailer certainly teases that Jessica Jones could take her down that path. Maybe if Luke Cage doesn't come back to Jessica Jones, the show can fit in a second superhero. Trish was also investigating IGH near the end of the season, meaning that she could be the one to find the next clues about what this organization is.
Where We Left Off: Jeri Hogarth
Jeri Hogarth started out strong at the beginning of Jessica Jones. As one of New York City's top lawyers, she was either respected or feared by everyone around her, and she was leaving her wife, Wendy, for her young secretary, Pam. Unfortunately, her refusal to acknowledge how dangerous Kilgrave was sent her life spiraling downward. Mistakenly believing she could use him to force Wendy to sign the divorce papers, he instead commanded Wendy to kill her during one of his escapes, and the only reason Jeri survived was because Pam killed Wendy. Now Pam is languishing in prison for defending Jeri and refuses her help after seeing how ruthless she is. The only thing Jeri has left is her career, and even that took a beating over Season 1.
Where We Left Off: Malcolm Ducasse
When we first met Malcolm, he was a junkie living in Jessica's building with whom she had occasional run-ins. We later learned that his drug habit was thanks to Kilgrave, who was also forcing him to spy on Jessica. Once Jessica was able to free him from Kilgrave's control, he gave up the drugs (though one can never be fully cured from addiction) and began helping others who had also fallen under Kilgrave's control. His relationship with Jessica had its ups and downs, and at one point he considered excising her from his life, but he stuck with her to the end.
The way he answered her Alias Investigations phone in the final moments of Season 1 made it seem like he was staying with her for the foreseeable future, either just as a friend or also helping her out with the business, and his role in The Defenders proved that he wasn't going anywhere.
Where We Left Off: Kilgrave
For 13 episodes, Kilgrave, originally named Kevin Thompson, antagonized everyone in Jessica Jones' life, not to mention a decent-sized portion of New York City. He used his mind control whenever he pleased and didn't give a damn about ruining the lives of others. Despite Jessica and Co. catching him in a vulnerable position a few times, it didn't seem like it was possible to end his reign of terror. Fortunately, when Jessica realized she'd developed an immunity to his control because of all that time with him, she knew she could finally stop him once and for all, and after some trickery in the Season 1 finale, she finally snapped his neck.
Kilgrave was pretty clearly dead at the end of Season 1, so unless Jessica Jones wants to go with a resurrection in Season 2, we can bet that his appearances in the new episodes will be via dream or hallucination. It would only be natural for Jessica to still be haunted by him and perhaps even seeing him around her.
Where Can I Watch Jessica Jones Season 1?
Since Jessica Jones is one of Netflix's original series, Season 1 will likely always be available to stream in full within the streaming giant's library. Season 1 should obviously be viewed before Season 2 comes around, not only because it makes sense for keeping up with the storyline, but also because Krysten Ritter and David Tennant are one of the best hero and villain pairings on TV.
Jessica Jones is set to launch Season 2 on Netflix (opens in new tab) on Thursday, March 8, at 12:01 a.m. PT. While waiting to learn more details about what we can expect, head to our trifecta of related small screen schedules: our 2018 Netflix premiere schedule, our 2018 Superhero schedule, and our midseason premiere schedule.
Connoisseur of Marvel, DC, Star Wars, John Wick, MonsterVerse and Doctor Who lore. He's aware he looks like Harry Potter and Clark Kent.
Your Daily Blend of Entertainment News
Thank you for signing up to CinemaBlend. You will receive a verification email shortly.
There was a problem. Please refresh the page and try again.