The Birthday Gift Kim Kardashian Really Wants Is Probably Not What You Would Expect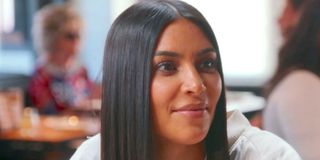 Kim Kardashian recently told the audience of The Ellen Show how her astronomical level of fame transformed her world. The 37-year-old reality television personality even said the aspect of ordinary life she misses most is something we peasants evidently take for granted. Kardashian declared it had been ages since she filled up her home with products she bought on her own at the grocery store, and running such an errand would be her birthday wish. Somehow, her explanation was baffling and egotistical, yet hilarious and selfless all at the same time. Kardashian said,
Ah, yes, the stars are just like us--except they are not at all like us, and have not been inside a grocery store in years. It's actually intriguing that Kim Kardashian mentioned this dream to Ellen DeGeneres, who could make it possible for a sketch similar to the one she did with Britney Spears at the mall. DeGeneres and Kardashian even tossed around the idea. The Keeping Up with the Kardashians celebrity said it would be a lot of fun to dress up with DeGeneres and go to the grocery store in a sketch for The Ellen Show. (We agree.)
It is not the first time Kim Kardashian has mentioned not visiting the grocery store in years. On KUWTK in 2016, she and Khloe Kardashian discussed sending a care package of products from U.S. grocery stores to Kendall Jenner, who was abroad. But Kim Kardashian reported it had been four years since she last went to the grocery store. She said she didn't even know "what flavor deodorants" were in stores. (Curiously, her statement was inaccurate. On KUWTK in 2015, Kim Kardashian and Kourtney Kardashian's son, Mason, popped into a grocery store to buy--deodorant.)
When Kim Kardashian last visited The Ellen Show, she talked about wanting to be more humble. Kardashian was there mostly to talk about how her life had changed since the robbery at gunpoint she endured during 2016 Paris Fashion Week. She mentioned changes like not taking authentic jewelry with her to events, and not posting to social media in real time. That interview had a somber note, but this latest one was much more upbeat. Watch the funny grocery-store discussion here:
Although Kim Kardashian's confession about not having grocery shopped in a long time is "unrelatable," as she admits, her honesty about her weird celebrity world is endearing. In fact, her openness about the quasi-pitfalls of her unimaginable level of fame somehow makes her seem approachable. Do we feel sorry for her? No. Can we see how it might be weird never to go grocery shopping again? Yes, that makes sense. Here's hoping Kardashian and Ellen DeGeneres follow through on that sketch.
Your Daily Blend of Entertainment News
Your Daily Blend of Entertainment News
Thank you for signing up to CinemaBlend. You will receive a verification email shortly.
There was a problem. Please refresh the page and try again.