Rapper Lil Peep Has Died At 21 Years Old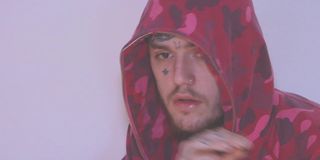 This week police in Tuscon, Arizona, confirmed the death of rapper Lil Peep (Gustav Åhr). Reports say the 21-year-old rising music star had drugs near him when people found him unconscious on his tour bus. Investigators now are looking into the specifics, but authorities have stated the death appeared to be the result of an accidental drug overdose. Sergeant Pete Dugan of the Tuscon police reported,
A spokesperson for the police department also told CNN that medical aids had rushed to the scene but could not revive Gustav Åhr. He passed away around 9:00 p.m. (11:00 p.m. EST).
Gustav Åhr encountered extreme highs and lows this year. His debut album, Come Over When You're Sober, hit stores in September, and he briefly dated actress Bella Thorne for a while. Later, Åhr and Thorne went their separate ways, but he then began dating his most recent girlfriend, Arzaylea Rodriguez, who posted she wanted to "wake up from this nightmare" on Instagram after learning of Åhr's passing. Similarly, Thorne posted a gallery of photos of her friend when she received the news. Take a look:
In addition to sharing lovely photos on Instagram, Bella Thorne also posted heartwrenching tweets. The first said she was speechless. Then Thorne added that she had had genuine faith in Gustav Åhr's potential. The Famous in Love actress tweeted:
Also, Ryan Lameyer of Phenomenon Concerts, which supported Lil Peep on tour, upload a lengthy Facebook post addressing the devastating news:
Coincidentally, Gustav Åhr had added a disturbing caption to an Instagram picture he uploaded hours before his death. The message read:
According to Metro, Gustav Åhr often used his music to address his struggles with depression, drug addiction, and suicidal ideation. For example, in the song The Way I See Things he rapped:
In fact, Åhr exhibited troubling behavior several times in recent days. For example, he filmed himself speaking in a dizzy manner after he had taken six Xanax before a performance in El Paso, Texas, on November 14. In the recording, Åhr told fans and followers on social media not to worry about him, because he felt all right. However, he also posted worrisome messages on social media, such as:
And he followed it up with:
Many people in the music community--such as Makonnen, Zane Lowe, Lil Yachty, Mark Ronson, Charli XCX, Ty Dolla $ign, and Sam Smith--offered condolences and shared thoughts via social media in the wake of Gustav Åhr's death. It sounds like the autopsy could shine a light on the exact nature of the Åhr's. Hopefully, his family and friends take the time to
Your Daily Blend of Entertainment News
Your Daily Blend of Entertainment News
Thank you for signing up to CinemaBlend. You will receive a verification email shortly.
There was a problem. Please refresh the page and try again.