Watch Linkin Park Honor Chester Bennington At The AMAs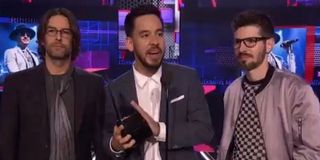 Mike Shinoda, Rob Bourdon, and Brad Delson of Linkin Park took the stage to accept the award for Favorite Alternative Rock Artist at the American Music Awards at the Microsoft Theater in Los Angeles on Sunday, November 19. The bandmates dedicated the honor to Linkin Park's late lead vocalist Chester Bennington, who passed away in July. Shinoda took the mic to dedicate the award to his lost bandmate, and he used the moment to communicate heartening words about the importance of gratitude. Take a look:
The American Music Awards hopped on Twitter to share a video of Linkin Park's acceptance speech, in which Mike Shinoda thanked the band's fans at the show and around the world. Shinoda also thanked the musicians of Imagine Dragons and Twenty-One Pilots, Linkin Park's fellow nominees in the category. Shinoda said the two bands' musicians talked to him and said "really wonderful things about Chester." Shinoda mentioned how much of what the guys from Imagine Dragons and Twenty-One Pilots said seemed to mirror the meaningful words Linkin Park's fans expressed after the tragedy. Shinoda then emphasized the importance of taking the time to feel thankful for life. He said,
As Linkin Park, Chester Bennington and his three bandmates crafted Hybrid Theory, reportedly the best-selling debut record of the 2000s, and their discography racked up 70 million albums in sales. Linkin Park's latest effort, One More Light, arrived in May, two months before Bennington's death. The album itself met with mixed reviews. Thus, some people might see the AMA mostly as a touching gesture from the music industry to the band in the wake of its tragedy.
Chester Bennington died by suicide at his home in Palos Verdes Estates in Los Angeles, California, on July 20, 2017. The rock star battled alcohol abuse and drug addiction at various times during his 41 years. Days before passing, Bennington filmed an episode of Carpool Karaoke, which aired in October with approval from his family -- his wife, Talinda, and his four sons and two daughters.
The news of Chester Bennington's death arrived but weeks after the passing of his rocker friend, Chris Cornell, the lead singer of Audioslave and Sound Garden. In an interview with Radio.com, Mike Shinoda revealed Bennington felt wrought with grief over Cornell's death and fought through tears to perform a song about the death of a friend on Jimmy Kimmel Live. Bennington later sang Leonard Cohen's "Hallelujah" at Cornell's funeral. Bennington and Cornell's deaths had several upsetting similarities. Both died by hanging suicides, and Bennington passed away on what would have been Cornell's birthday.
Linkin Park encountered a roller coaster of emotions this year with peaks like the release of a new album and valleys like the death of their beloved friend. It was courageous of the musicians to take the stage, but it was even more touching how Mike Shinoda's acceptance speech encouraged listeners to appreciate life and feel grateful for what they have.
Your Daily Blend of Entertainment News
Your Daily Blend of Entertainment News
Thank you for signing up to CinemaBlend. You will receive a verification email shortly.
There was a problem. Please refresh the page and try again.