Charlie Sheen Is Suing The National Inquirer For Defamation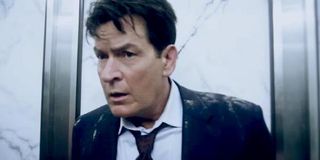 Charlie Sheen is suing the National Enquirer for publishing an article that stated he raped late actor Corey Haim when Haim was 13. The November 8 article claimed the alleged rape occurred when Haim and Sheen were working on the film Lucas; Sheen would have been 19. When the tabloid first published the story, a spokesperson for Charlie Sheen denied the allegations. Now Sheen is taking legal action against the tabloid, its executive, and a person quoted in the article. In a statement, the former Two and a Half Men actor said,
The National Enquirer's article suggested Charlie Sheen smoked marijuana with Corey Haim and had intercourse with him. The report accused Sheen of encouraging Haim's drug use. As TMZ tells it, Sheen denies the story and claims Haim's mother denies it as well. Sheen reportedly thinks the National Enquirer's executive, Dylan Howard, has it out for him because Sheen revealed his own HIV diagnosis on live TV before the tabloid could break the story.
Now Charlie Sheen evidently thinks Dylan Howard, the National Enquirer, and actor Dominick Brascia are guilty of defamation and false light. The tabloid's article added a quote by Brascia, who supposedly heard about the alleged rape from Corey Haim. In the article, Brascia says Haim felt like Sheen was cold toward him after the incident, but when Sheen was finding success in movies like Major League II and Money Talks. Additionally, it claims that years later, Haim and Sheen had another sexual encounter.
Corey Haim's friend, Corey Feldman, previously said both he and Haim were victims of molestation during their days as teen actors in Hollywood. Feldman recently doubled down on his accusations and named people like Jon Grissom, a former assistant to Haim. However, Feldman has not directly confirmed or denied reports about alleged sexual encounters between Haim and Charlie Sheen.
In recent years, Charlie Sheen has encountered personal and professional setbacks. After Two and a Half Men fired him in 2011, he had a nervous breakdown on social media but eventually enjoyed a brief comeback with FX's Anger Management. He then revealed his HIV diagnosis on live TV in 2015, and now it appears he is headed to court to face off against the National Enquirer over these serious allegations.
We'll keep an eye on this story as it moves to court. With many reports about alleged sexual assaults in Hollywood recently coming to light, this story will be an interesting one to follow.
Your Daily Blend of Entertainment News
Your Daily Blend of Entertainment News
Thank you for signing up to CinemaBlend. You will receive a verification email shortly.
There was a problem. Please refresh the page and try again.