Why You Shouldn't Name Your Beer After Beyonce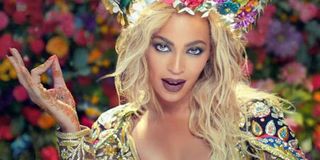 It's Queen Bey, not Queen Beer. If you plan to name your alcoholic beverage after Beyoncé, think again. Beyoncé recently corrected a Brooklyn brewery on such a decision. Lineup Brewery recently received a cease-and-desist order from Beyoncé's peeps when the company began selling a German pilsner under the name of "Bieryoncé." From the sounds of it, Lineup Brewery's heart was in the right place when they titled the brewski after the Grammy Award winner. However, the company did not have permission from the pop icon to use her likeness or name to sell products. Katarina Martinez, the brewery's owner, told reporters she felt frustrated:
According to The Wrap, Katarina Martinez's idea to go with a Beyoncé theme for one of Lineup Brewery's beers came to her when she missed a Beyoncé concert. Martinez styled the beer can after the cover Beyoncé's self titled album. She used Beyoncé's large, thick pink font against a black background and added the acute accent on the E for good measure. Martinez tweeted pics of the can in December:
Nevertheless, it was not long before Beyoncé's team sent the cease-and-desist order. Lineup Brewery then decided to switch the Beyoncé theme for a Kätariná theme honoring the company's "badass female brewer" instead. The beer producers uploaded an Instagram photo of the new concept:
Lineup Brewery received amusing comments from social media users after the company switched the name. For example, one person suggested the brewery ought to use "Brewstiny's Child" as the title of a new product. But that name most likely would land the company in trouble again.
Many commenters also talked about whether using a celeb's likeness and name should be okay. Some people took the brewery's side, but others said it seemed wrong for fans to sell such products without permission. Regardless, as some people pointed out, the controversy got people talking, so all news might be good news for the brewery.
Beyoncé and Jay-Z have long kept their names on lock. They even tried to trademark the names of their kids--Blue Ivy, Rumi, and Sir. The music industry royals might have been lucky when it came to trademarking the names of Rumi and Sir, but they did not manage to do so with Blue Ivy, as there was a business in Boston using that name when the Carters wanted it-- but they did not go down without a fight.
So, Lineup Brewery should not feel "disappointed" about the marketing misunderstanding. Beyoncé and Jay-Z will always protect their names, so whether Queen Bey did or did not "take it as a compliment," the problem most likely was professional, not personal.
Your Daily Blend of Entertainment News
Your Daily Blend of Entertainment News
Thank you for signing up to CinemaBlend. You will receive a verification email shortly.
There was a problem. Please refresh the page and try again.