See Meghan Markle And Prince Harry's Beautiful Engagement Photos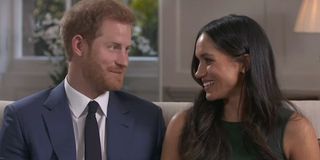 Prince Harry and Meghan Markle once again have the internet abuzz with cheers and happiness, as well as fashion chatter. Because today the recently engaged couple released official engagement photos. His Royal Highness and his American dreamgirl looked incredible for the photo shoot, with love practically radiating from the images. Fashion photographer Alexi Lubomirski, the lucky shutterbug the couple hired, shared the pictures after Kensington Palace announced their release:
Stop! How gorgeous is that first engagement photo? Alexi Lubomirski wrote in the caption of all the Instagram photos that the results made him smile. But is it any wonder why? They look fantastic. Prince Harry looks smoking in that winning blue suit. But how about Meghan Markle? She looks like a fashion goddess in this photo shoot, and the implications for the dress she wore are huge. The next photo screams "happiness", but also gives Markle a chance to show off the beautiful ring Prince Harry gave her when he proposed earlier this fall:
This last photo might be my favorite because it shows off the gorgeous gown Meghan Markle wore:
Here is why Meghan Markle's dress choice is important, and everybody needs to pay attention. First, she chose a British brand, most likely signaling her commitment to British businesses. Secondly, the style of the dress is exciting and impressive. According to Daily Mail, Kensington Palace confirmed the dress was privately purchased from the British fashion house Ralph and Russo, a company by Australian entrepreneurs Tamara Ralph and Michael Russo. The gown comes from the brand's autumn/winter 2016 collection. As you can see in the photos, the dress is a full-length number made of black tulle, and it has a silk organza skirt with ruffles applied by hand. Plus, it has a sheer bodice that contains decorative feather threading. In other words, watch out, fashion world, because the Duchess has arrived (no offense to Catherine, Duchess of Cambridge; Camilla, Duchess of Cornwall; or Sarah, Duchess of York---or Fergie, Double Duchess of the Black Eyed Peas.)
The couple looks super happy. Obviously, Meghan Markle knows the world is eyeing her to become "the new people's princess," so she came to slay. It is not as though Markle's incredible sense of style has been a big mystery or anything. Still, the fact that she went with this bold choice of dress for the engagement photos could suggest that the world is in for a spectacular treat when she walks down the aisle at the wedding on May 19, 2018.
Your Daily Blend of Entertainment News