25-Year-Old Mauled By Tiger After Jumping Into Zoo Exhibit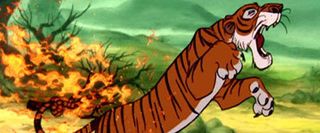 On Friday, a man was mauled by a tiger after jumping from a moving monorail and scaling a 16 ft. perimeter fence. The incident started out seemingly innocently enough. A group of monorail riders were touring the zoo, taking in the sights, when one of the passengers leapt into the tiger pit. At the time, only one tiger out of ten in the exhibit was in the pit, which definitely contributed to saving the 25-year-old's life.
The other big contributing factor to saving the man's life was the Bronx Zoo's responsive staff, which came to his aid quickly, chasing the 3-year-old male tiger off and instructing the young man to crawl under a wire fence. Despite this, The AP is reporting the man suffered bite marks across his body, as well as a broken arm and leg. As of Friday evening, he was in stable condition at the hospital.
Zoo staff say they are unlikely to change any policies or procedures as a result of the accident. Director Jim Breheny maintains the man had to go to a lot of trouble to get into the enclosure, and he certainly would not have done so if he hadn't intended to harm himself. For the record, if there's ever the chance to scale a 16 ft. fence and jump into a tiger enclosure, it's probably not the best way to get a thrill. I'd akin it to jumping into a rollercoaster's path to nab a hat at a theme park. The likelihood of injury is far too high for anyone who values personal safety. It's lucky the man made it out with only a few broken bones and a few scrapes.
Your Daily Blend of Entertainment News
Thank you for signing up to CinemaBlend. You will receive a verification email shortly.
There was a problem. Please refresh the page and try again.