Anthony Kiedis Injured, Red Hot Chili Peppers Postpone Tour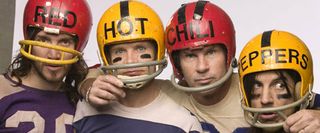 Just months after releasing I'm With You, The Red Hot Chili Peppers' first album since Stadium Arcadium dropped in 2006, the group announced they would go on tour in support of the new music. Tickets went on sale and fans bought them in droves. The band was scheduled to kick off the tour on January 20th in Sunrise, Florida. However, an injury plaguing one of the band's members has forced The Red Hot Chili Peppers to postpone some upcoming tour dates.
Apparently, the decision has come after vocalist Anthony Kiedis' foot failed to heal quickly enough after surgery to resume the tour on time. According to a statement from the band, Kiedis very recently had surgery after finding out his sesamoid bone was crushed and his flexor tendon was detached. No worries, the man is expected to make a full recovery, just not in time to play a bunch of the upcoming dates.
The good news is The Red Hot Chili Peppers refuse to cancel the dates. The bad news is the dates have all been shuffled around. You can check out a full list of the changed shows over at the band's website. Suffice to say, instead of kicking off January 20, the tour will now begin on March 29 in Tampa Bay, Florida and will run through October. If you have a ticket for one of the dates, The Red Hot Chili Peppers will honor that ticket at one of the rescheduled dates. Pop Blend will keep you posted on how the band will let buyers refund tickets.
If you were wondering where that leaves room for the band's induction to the Rock and Roll Hall of fame, the event will take place on April 14, in the middle of the tour. The Red Hot Chilli Peppers were voted into the hall of fame in December, alongside Guns N' Roses and The Beastie Boys.
Your Daily Blend of Entertainment News
Thank you for signing up to CinemaBlend. You will receive a verification email shortly.
There was a problem. Please refresh the page and try again.