Attempts To Ban The Hunger Games Are Growing More Popular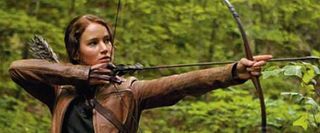 A lot of books have gotten banned over the years. Anne Frank's: Diary of a Young Girl has been innumerably as has Robert Cormier's famous teen book The Chocolate War. Big franchises like the Harry Potter and Twilight series' have not been immune to banning book frenzies, which is why it should really be no surprise to hear Suzanne Collins' Hunger Games series has been added to the long and distinguished list of books certain factions of people may disagree with.
What should be a bit more of a surprise is the fact the movies have sparked the banning movement for The Hunger Games more than the book yielded criticism on its own terms. Some of this simply has to do with the level of awareness there is about the book since the movie began crushing at the box office. Barbara Jones, ALA's director of the Intellectual Freedom office recently told CBS News the film has sparked some anti-ethnic complaints.
At the end of the day, though many younger kids pursue the title due to its popularity, The Hunger Games is meant as a teen read. YALSA and School Library Journal would definitely back me up on that. Banning a book is never the answer. It simply can ruin a gripping or challenging read to suit the needs of a few insecure patrons. People just need to sit back and learn to talk to their kids about what they are reading. Using the library responsibly and wisely is bound to lead to happier patrons.
If you are interested in learning more about banned teen reads and you happen to be catching a barbershop quartet in Skokie, Illinois, the public library's shortlist of banned books should be able to get you started.
Your Daily Blend of Entertainment News
Your Daily Blend of Entertainment News
Thank you for signing up to CinemaBlend. You will receive a verification email shortly.
There was a problem. Please refresh the page and try again.