This New Batman Rollercoaster Is Unlike Anything Ever Seen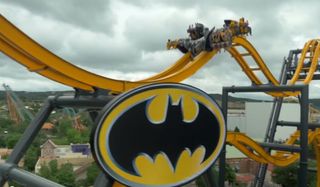 Six Flags Fiesta Texas in San Antonio is gearing up for the grand opening of their all new roller coaster and it's unlike anything ever seen. The thrilling ride takes you and your friends on a high-speed spinning adventure that is bound to get your stomach turning. Take a look:
Batman: The Ride had its soft opening earlier last week on May 13th, and will officially open on May 25. The ride is definitely not for the faint of heart, as it takes not only high peaks, turns and loops, but also keeps riders in motion flipping around the entire length of the ride. The special 4D Free Fly Coaster requests you have Batman-level bravery to get on board. Six Flags defines the coaster as a "totally immersive, high speed Gotham City adventure" and "a mind-warping thrill coaster loaded with special effects and cutting edge construction".
The coaster claims to be the only one of its kind in the world, that uses magnetic fins to cause you to flip as you ride over the top of a 12-story hill and two vertical drops. Riders will literally be flipping head-over-heels on this ride. So definitely hold off on eating lunch before boarding this batty adventure.
Beyond the 12-story lift though, apparently the two vertical drops are 'beyond 90-degree raven drops'. What does that even mean? As if a 90 degree drop wasn't enough, Batman: The Ride must go beyond?
The video teaser for the ride, while exciting, is already quite vomit inducing, so we can only imagine the real thing to be a complete puke fest. Not sure what's more scary though, the thought of actually going on this ride, or the thought of going on this ride with other humans susceptible to puking, and spinning around in circles right into their lines of puke.
Thrill seekers will be lining up to experience the weightlessness that comes along with the constant tumbling, exhilarating ride. And Batman fans who have the stomach for it will be immersed into an awesome storyline with special effects including the Batmobile and Bat-Signal.
Your Daily Blend of Entertainment News
Thank you for signing up to CinemaBlend. You will receive a verification email shortly.
There was a problem. Please refresh the page and try again.