Damon Albarn Says Gorillaz And Blur Are Finished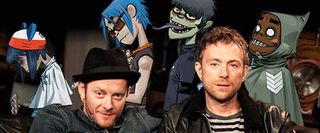 For many of us, there are always those couple of bands that define our high school years. Whether it's an obsession with hip-hop, or the metal heads who revel over anything with distorted guitars, most people during the greatest times of their life have a favorite band. The group that defined my adolescence was Gorillaz. While the memory of their music still resonates with me, the group might not have much of a future. Over the past twenty-four hours, the internet has blown up in riveting sorrow over the latest news that, to the behest of many fans, Gorillaz is finished.
According to a recent interview from The Guardian with front-man Damon Albarn, the maestro stated that the future of his pet project is "unlikely." Even cartoonist, and his partner in crime Jamie Hewlett, feels that Gorillaz is "done." To make matters worse, the two aren't on speaking terms either. This occurred after a falling out with Hewlett, when Albarn decided to tone down his partner's animation, and instead opted for a full band on the Gorillaz 2010 supporting tour of Plastic Beach.
While my generation might feel bad about this dismal news, children of the 90's also have their problems to deal with as well. When asked about his brit-pop group Blur, Albarn also stated that he doesn't think they'll continue on either. Though the group is playing three more shows in August, unless you live in Europe, you'll have no chance of seeing them play their last shows. No matter if you're a Blur or Gorillaz fan, this is bad news.
Both those groups were a strong presence among the music industry for years, and they both did very important things for the recording industry as a whole. Blur proved that pop music can be fused with rock and roll without taking away the integrity the genre gained with Grunge music of the early 90's; and Gorillaz showed Blur fans that with a little bit of innovation and a lot of imagination, you can create music that's not only easily digestible, but highly artistic as well. While Blur and Gorillaz may be no more, their music will always live on. For all of those who are deeply affected by this news, like myself, here are two of my favorite songs from Damon Albarn's ground-breaking groups.
Blur "Parklife"
Gorillaz "Demon Days"
Your Daily Blend of Entertainment News
Your Daily Blend of Entertainment News
Thank you for signing up to CinemaBlend. You will receive a verification email shortly.
There was a problem. Please refresh the page and try again.