George R.R. Martin Really Wants To Finish The Winds Of Winter By 2016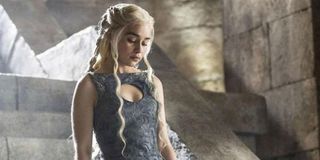 This week has been a big week for George R.R. Martin, the man behind Game of Thrones. After announcing that he would not be a part of the writing process for Season 6 of the critically-acclaimed HBO series, Martin decided to remind his fans where his priorities lie and gave them another taste of his latest novel, now four years in the making. It's been a concern for many fans of the speed of Martin's writing and the fear that the TV series will surpass the novels that they are based off of. But, Martin just gave us a little bit of hope, confirming that he is desperately trying to finish The Winds of Winter by 2016, before Season 6 of Game of Thrones.
In a recent interview with Entertainment Weekly, Martin touched upon the stressful nature of his job, and the current status of his latest project. He told the magazine that having The Winds of Winter published before Season 6 airs next spring has been incredibly important to him:
He's not the only one wishing the book what already out. Fans been hounding Martin relentlessly. Maybe it is because of the popularity of the HBO series and the new fans that have been added to the mix, but it's only been about 4 years since the last novel, A Dance with Dragons and the one before that, A Feast For Crows was 10 years ago. It takes time to write, and this pressure can't be helping Martin.
But, there are many critics questioning some of the author's choices. For instance, Martin also announced this week that he is signing on with HBO to create another series, which sounds fantastic, but will inevitably take away from writing A Song of Ice and Fire books.
Martin is keeping the excitement for the books alive though. In his interview with EW he even teased an intriguing new element to the latest novel which apparently reveals a big twist that he never previously considered, and also something that could not happen in the show:
Martin still admits he has some work to do, and assured that his new series with HBO, Captain Cosmos won't take up too much of his time, but he seems pretty determined to finish the book in the next year. Let's just hope he isn't rushing too much, causing any lack in quality.
Your Daily Blend of Entertainment News
Thank you for signing up to CinemaBlend. You will receive a verification email shortly.
There was a problem. Please refresh the page and try again.