The Winds Of Winter Isn't Coming Anytime Soon, Publisher Updates On George R.R. Martin's Next Book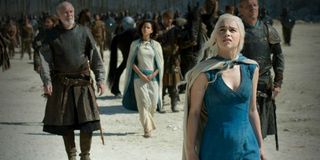 It's been some time since George R.R. Martin gave his fans new material to read, and it turns out that the latest novel in his hugely popular series A Song of Ice and Fire will be taking longer than we hoped. While there's no definitive release date set for the novel, an official statement from Martin's publisher today confirmed that the novel definitely won't be published this year.
The news has brought up some mixed reactions among super-fans of the books, and those who watch the TV show who fear that the HBO series based off of the books, Game of Thrones will catch up with all the novels and possibly even run out of material from the books. After all, the series is expected to catch up with most of the story line from the last published book in this upcoming fifth season. Martin's publisher Jane Johnson of HarperCollins could not promise a release date and in speaking with The Guardian reminded fans:
But, to help ease our pain-staking impatience, three official prequel novellas to the series will be released in a new illustrated edition, out in October. The novellas, which have been previously published in separate anthologies, but never put together before, are entitled, The Hedge Knight, The Sworn Sword and The Mystery Knight. Johnson seemed fairly hopeful that this collector's edition will keep fans from rioting outside Martin's door (we think not).
Martin's sixth novel of the series, The Winds of Winter is still in the works, and readers have been ready and waiting for it since the release of the last book A Dance With Dragons back in 2011. And this past December, when a rumor spread that the new novel would be released around Christmas, Martin spoke directly to his fans and told them to only trust his word on the subject, after all, it's his words we are
[[ ahref http game-thrones-executives-tell-george-r-r-martin-get-busy-writing-57844.html television www.cinemablend.com ]] waiting for. Via his blog, Martin assured fans that he would let them know when the book was done.
A Song of Ice and Fire and the complimenting Game of Thrones series each have their own unique attributes, but the latter does rely on the former for its material. So, we can only hope that The Winds of Winter will release in early 2016, just in time for season 6. We can only hope.
Your Daily Blend of Entertainment News
Thank you for signing up to CinemaBlend. You will receive a verification email shortly.
There was a problem. Please refresh the page and try again.